Inbred
by Aidan Searle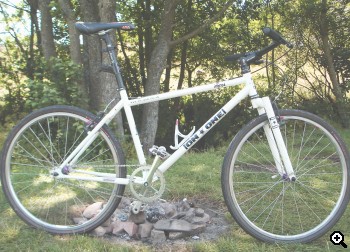 My grown-up bikes have all been road machines, but I have fond memories of taking my old 3spd through the Bristol woodlands. I recently decided that, since I'd somehow managed to miss out on the first wave of mountain biking in the UK, I should make amends.
I'd just converted to fixed gear, and now I planned to take one offroad.
The objective was to fulfil two requirements: offroad fun plus commuting and getting around town. I already had an interest in the On-One / Planet X stable and had toyed with the idea of owning an Il Pompino, but this would have been too close to the geared Kaffenback I already ride.
Then a singlespeed version of the ever-popular Inbred came up secondhand. The temptation to convert it into a fix proved irresistible.
The bike was an 18incher with a pretty standard On-One gruppo, although the last owner had added Truvativ cranks (36t ring) and Deore V-brakes. My first upgrade was to replace the wheels with a rather nice pair off eBay, Hope titanium hubs laced to Mavic X517 rims. There was just enough thread on the singlespeed hub to accommodate a spare 16t fixed sprocket, provided I assembled without a lockring.
This was my first fixed MTB and the one which I took over Gospel Pass earlier this year. I've ridden a lot since that early outing, discovering that, when used on a fix, the Truvativ cranks have a tendency to work loose from the spider. I also found that my first choice gear of 60 inches made for too much spinning and not enough speed. I switched a Dotek crankset with a 42t chainring, giving me a substantial 70" gear. (US readers may know the Dotek as the Bulletproof.) It's cheap, but chunky enough to take the knocks and it does a good job.
My new gear gives me plenty of speed around town, but I found myself struggling on a recent outing on the hills and paths of Exmoor. That said, the light, stiff frame and rigid fork make the Inbred an excellent hillclimber, so it serves me well around my hilly hometown. The 'Mary' bars which I installed recently offer a more relaxed position, matched with a stiffness that makes climbing out of the saddle more comfortable and efficient.
All in all, I now have a bike that responds well to all the many demands I place on it. By the way, that bracket on the seatpost is for attaching my daughter's Tag-a-Long!