Postcard from Spain
by Aimar Fraga Angoitia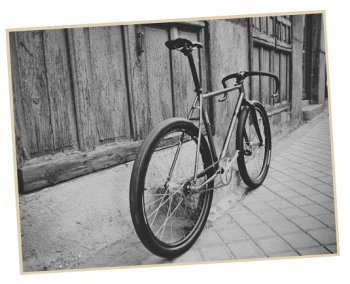 I can still remember my very first contact with the fixie cult. I learnt everything I could by reading texts and viewing photos on the Internet.
I visited some amazing websites, but 63xc.com was the craziest, for sure. I had always loved the purity and simplicity of trackbikes, but I never thought that it might be possible to ride one off the track. Then, when I saw all these people doing it, I decided that I had to try it myself.
I had to rely on the Internet, the English I learnt at school, and my maxed-out credit card. Components came from the UK or other EU countries. Will from 63xc.com helped me choose the hub and cog for an MTB conversion -- thanks, Will! -- but it was difficult to get everything together.
Still, finally, I had a fixed MTB conversion, and I was happy as hell. Thinking about all the help I'd had from other fixers, I decided to make a fixie website in Spanish. That way, if more Spanish people wanted to make fixies, they could get access to good information in their language. Will helped, and so did some others, like the amazing people from Rotafixa and Vigorelli from Italy. OK, OK, I'm speaking a lot without saying anything... I'm sorry...
So, my bike was done, great, and now... it was time to ride it! How would it be? Let's see... Hey hey hey!! Ouch! *&$$%&*@$&*!!! What is this? This is a nightmare! The bike dumped me twice at the lights when I forgot to pedal. This is going to be a looong day... Don't forget... por favor... keep pedalling... keep pedalling...
Eventually, I made it home in one piece. (No joke, because I had made the stupid mistake of riding with platform pedals, so the downhills were a real nightmare.) I was alive, but I felt pretty frustrated. Had I made the dumbest move of the year? Was this fixie thing only for real men?
Well, I put on some clipless pedals. Now I felt happier about braking. My next ride wasn't so scary. The next was easier still.
People started to notice me. Other riders became interested in this fixie thing. The older riders seemed to be the most interested at all. I guess that makes some kind of sense? I found it funny, and sweet.
Ride, ride, ride. Commuting; buying the bread and papers; Critical Mass; some easy offroading; and a lot of miles on the road. My confidence grew. I began getting that special fixie feeling, like I was more and more part of the bike. It's hard to explain, but I guess that anyone reading this can understand what I'm saying. I think that it's one of the greatest things about riding fixed. This incredible communication between you and your bike.
I worked on offroading. Of course, I started out very gently. I had fat slicks, a big gear, and no brakes. I was used to riding on tarmac and, since I had the fixie feeling, I figured that I had everything more or less OK.
Then the offroad trails showed me the stairway to heaven. This was crazy!
If you have to be really inside your bike and feel it when you're on road, what about offroad? Every little stone, every tiny skid, anything and everything is important now, everything is inside your brain, everything comes into your very own riding universe. Everything becomes a part of you and you become a part of it. You can be a stone, you can be mud, a tree. Excuse me? No, Mr. Policeman, I'm not on drugs!
But hey, I remember why I was writing this story. Let's go!
Yesterday was a nice autumn saturday, one of the most perfect times for cycling. Here I was in my room, with all my bikes near the window: the mountain bike, the roadracer, and my fixie Supermotard, object of my irrational love. I was really in the mood for a loooong ride, a good one, with good feeling in the legs, hungry for eating km.
The question was... shall I take the roadbike and mash the pedals? Or, how about a long mountain bike ride? Hmmm... I kept looking at the Supermotard. It wasn't a rational choice, but then, who said fixers are rational?
How about it? You. And me. Together. You sure? I don't know... so many km... it's going to be hard... But, as you know, passion has no rules. The mountainbike was just too truck-like. I needed to feel my legs spining and floating freely over the ground. The road bike, well... maybe it was the cables, or the brake, the gears, I don't know why but... I could only choose my pure and loved fixie. It was like choosing freedom, it was like choosing simplicity, it was like choosing love and passion.
Five minutes later I was riding.
I wasn't on the roadbike.
I wasn't on the mountainbike.
I was on my Supermotard fixie.
And then, like a flash of lightning, the truth burst into my head.
I wasn't riding a bike.
I was a bike.