Solitude 29er
by Alex Baker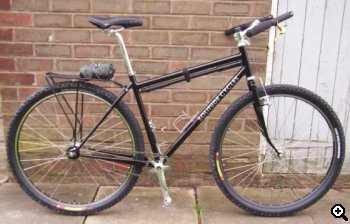 When I was thinking about my new bike I had three design criteria: fixed, rigid and versatile.
The first one was pretty easy; track ends and no rear brake mounts / cables. The second was simple enough, once I'd found a really wide crown and strong legs.
But 'versatile'... well, that took a little thinking about. What would I use it for? Any fittings I needed? How many bottle mounts? How would I design the geometry to fit me as well as handle the wide range of use it would see?
This bike is designed as a true allrounder with option to fit a rack, pump plus two bottles. By using 29" / 700c wheels I have the option of narrow road tyres to cyclo-cross rubber to full on MTB treads all on one frame and wheel set. The big wheels help it roll over rocks and roots and smooth out the ride somewhat. The forks are a non-suspension corrected rigid steel pair with a super wide cyclo-cross / touring crown and strong Reynolds blades. I have incorporated a large amount of rake to give sharp handling and plenty of toe room even with a relatively short top-tube. Stainless steel drop-outs keep the ends looking good when I torque up the Phil hub bolts.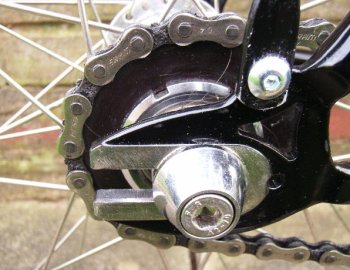 The tall head tube and lowered top-tube give a good bar height while keeping a low standover. The new stem has a taller than normal clamp, so there's no need for an ugly stack of spacers. It also features an inbuilt cable stop / guide for the front brake cable. The seat tube looks surprisingly short but 29er geometry is deceptive -- at 19.5" c-t it is in fact the biggest frame I have ridden in some time. It looks short because of the larger-than-usual drop, which brings the BB down to 300mm clearance, making me feel like I'm sitting in the frame rather than on top of it.
The stays are 'S'-shaped to clear even the biggest tyres and mud and have the new raised face track ends in stainless steel. The main tubes are Columbus Life and the rear end is all Zona. I specced a Reynolds head tube and an internally-relieved BB shell to connect them together. Careful tube selection kept the frame to 4.4lbs. It should last a long time under my 10st body, and it's rebuildable if I can avoid stacking it into a tree.
Parts are a mix of proven designs and old favourites: Jones bars, Paul lever and NeoRetro brake, Koolstop pads, Ritchey post and Fizik saddle. Plus, of course, a set of Grab-On hex foam grips -- my first ever MTB upgrade back in the 80s! The Sugino cranks and Surly ring turn an EAI cog and Miche lockring via a PC58 chain. The cranks are running on my 5yo Race Face BB, now on its third frame! Wheels are MA3s on Phil doublefixed hubs with DT spokes. WTB Motoraptors are the current treads. A couple of stainless steel bottle cages and an alloy rack bolt onto the bosses, and a Zefal HPX pump clips under the down-tube. Forget minipumps, this is how to inflate a tyre!
The gloss black powder coat and silver decals give it an old-school look reinforced by the rack and pump.
So, how does it handle? Well, it's as fast as my old MC Utilitiman, but rides smoother due to the big wheels. The handlebar position is spot on and requires no spacers or odd stems (ignore the main picture, this was taken before the stem was built!). The grips fall naturally under my hands as I lean forward, and the saddle position enables me to move about on long rides. The standover is more than adequate and the bike feels natural and intuitive.
I've ridden it on the road, forest trails and recently on the Red Trail at Glentress. It handles it all well and never feels out of its depth. I really like it.