Matt Chester Utilitiman
by Alex Baker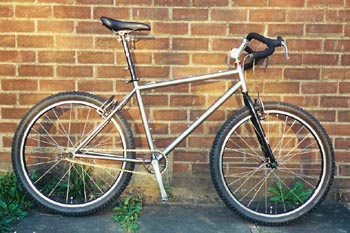 Where to start? It's hard to review a custom bike, because by nature it will be unique.
I bought my Utilitiman after several months of careful deliberation and a string of emails to different builders. I chose Matt because he took the time to find out all he could about my riding style, my choice of parts and my ideas. He didn't waste time slagging off other builders, spouting techno-crap or laughing at my component choice--all of which I got from other custom frame shops. He combined his experience and ideas with mine until at last we had evolved a personal design. I sent the money, and Matt started building.
The frame that showed up a few weeks later was a large Ute with a few minor tweaks, the most important being a raised downtube-headtube junction which enabled me to fit a suspension fork without fouling the adjusters. The finish and attention to detail were superb throughout, with clean threads and proper facing on the head tube. Of all the frames I've ever received, the Ute is unique in not needing any prepping before build--and I have received several shipments from Merlin and Litespeed.
The Ute is currently set up with a Kona Project 2 fork, WTB Dirt Drop bars and Profile high-rise stem, Fizik saddle on a Roox 430mm post, Surly hubs on Mavic F519 rims with a 36:16 fixed setup, and an 18t freewheel. My summer tyres are Maxxis Larson TT 1.9", and I switch to Conti Vertical 2.3" for winter riding and rocky trails. The frame offers plenty of mudroom even with the winter setup.
The geometry? 72° parallel head and seat tubes, 18" c-t, 23.5" top tube, 1-1/8" head tube, blah, blah, blah... Who wants numbers? You want to know how it rides, right? Smooth and fast. The steep head angle makes for fast steering, but the long wheelbase keeps the heading true on the fireroads where other fast-handling bikes become sketchy. The main frame has enough spring in it to leave my hands unpunished on rough ground, even with the notoriously rigid Pace RC-30s, but retains enough lateral stiffness to avoid BB flex, even under hard pedalling. The mellow gauge tubing in the 17" stays has plenty of give, enough in fact to make the rear tyre feel underinflated, making for a comfortable ride with good roadholding.
But the Ute really shines on singletrack where the long top tube, steep head and smooth stays enable you to weave through the trees and roots like the bike is articulated. I have ridden the Ute with both rigid and suspension setups. The bike handled faultlessly with everything except the Z4 suspension fork, a 100mm travel job. With such a forgiving frame, rigid forks and a big front tyre are all the suspension you really need.
So, how about the Ute as a fixer? It's great! The bike feels energetic normally, but with the extra spring of a fixed drivetrain it comes alive. The high BB and 170mm cranks keep pedal strikes to a minimum and the winning combination of fast steering and stable back end keeps everything nicely under control. I flipped the wheel last week to give the freewheel a try, but changed it back after one ride. I realise running fixed is not ideal in all situations--The Red Bull trail at C-y-B would be a nightmare!--but 90% of the time it helps rather than hindering.
Would I change anything? A taller headtube would help get the Dirt Drops dialed in, but I was using flat or low-rise bars when I placed my order. (Ah, hindsight is a great thing!) Other than that? Nope. Matt is a great guy who builds sweet frames, and he understands about riding singlespeed and fixed off-road. Add in the low price and amazing customer service and you have a winning combination.