Keith Bontrager Fixed Gear
by Aram Shumavon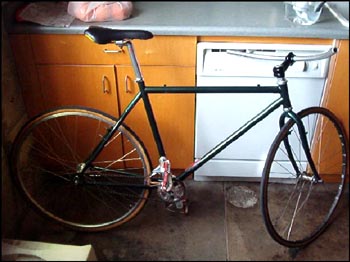 Yo Fixies!
I had been wanting a fixed mountain bike for some time before I stumbled upon this frame. The easiest way get fixed seemed to be the White Industries ENO hub, but I baulked at the cost. Enter this Ed Litton-modified, Keith-built Bontrager.
Ed is a SF bay area framebuilder/repairer/painter, who works out of Richmond CA, the most polluted city on the bay--except maybe for Oakland and Alameda and San Francisco and Martinez and Hurcules and Freemont and Hayward and Union City. Since Rich Adams, my frame wizard, split for the east coast, I had been in touch with a few frame-obsessed folks around the bay about modding bikes for single speed applications. The ones with the most experience all said: "Ed".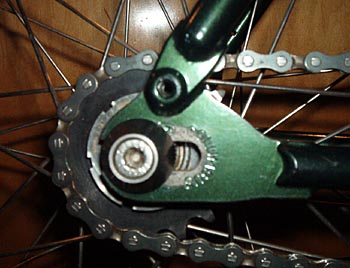 One look at the results shows why, though his paintjob was just a tad off at the BB shell and he's SLOW. In fairness to the ENO, a frame mod and paintjob from Ed is more expensive than a hub, but this deal just worked out for me for a whole host of reasons. Ed also had original Bontrager head tube transfers which was kinda cool. Next on my list of Ed-mods is putting track ends on a pre-Raleigh Carlton crit bike.
The Bontrager is built with Columbus track ends, a 1 1/8" Bontrager stem--with a spacer, since the frame is 1"--and Shimano XT BB and headset. The fork is from an old steel Stumpjumper, mostly because great 1" suspension forks are hard to find. The cranks are old Specialized S-works which I absolutely love. There's a 37 or 39t (can't remember) ring up front and a 19t in the back. This is the the smallest gear I've ever run and quite spin-tacular and spin-tastic--but be sure to get your saddle position right because at high cadence you find out quickly if you're off at all.
The saddle is too crappy for words and is about to get the boot, but the wheels are nice: 130mm Phil Wood flip-flop hub laced to Velocity rims and 25mm clincher tires. (The tires seem really large to me, since I normally ride small tubulars.)
I get a lot of questions on the bars which are pretty simple and elegant but not really offroad worthy. I don't know too much about them apart from the name "W-540". I got them NOS in a trade and they sure are fun to ride in the city. One thing that's kinda fun about them is because they're straight(ish) and since the stem has a rise you can flip them around and feel like you're driving a fixed gear bus with you hands behind and under the bars rather than on top of them. This seems most fun after a few pints.
The bike is very much a work in progress, saddle and brakes to come and finally, beefier rims and knobbier tires. Then I'm biking up to Tilden for a little mud and rocks.