Bamboo MTB
by Brano Meres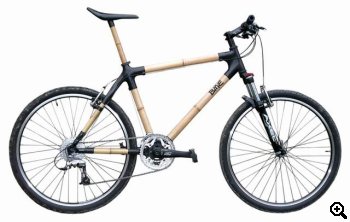 This is my second home-made frame. This time around, I used bamboo stems with carbon composite joints.
I've seen many amazing bamboo structuresand they made me wonder why such a light, strong, stiff and elastic material is not used more widely in the bicycle industry. As soon as I had finished my first carbon MTB frame, I began toying with the notion of a second using bamboo for the main tubes. In 2004, I came across an article describing Craig Calfee's bamboo frames. I decided there and then that I would have to build one of my own.
The most difficult part of the job was finding quality bamboo. This took much longer than the build. I visited several local dealers. In order to find a few suitable stems, I had to sort through a huge amount of bamboo stock. Next time I build a bamboo frame, I'll either grow my own or fly out to Asia for them!
I settled on two different kinds of stem. The top tube, down tube and seat tube are a Chinese species. It's strong, with a large diameter, but I was not very satisfied with the quality of the surface. It was scratched (maybe it had been used as scaffolding) and it had woodworm holes (what if those beetles later devoured my frame?) The seat and chain stays, the most critical parts of the frame, are a thicker-walled species from Malaysia. They were already pretty stiff, but, during breaking tests, I found out that I could make them even more rigid by filling them with lightweight polyurethane foam.
The build itself went quite quickly. Using the frame jig I had made for my previous carbon frame, I mitred the bamboo stems against the duralumin tubes forming the bottom bracket shell, the head and the short seat tube, and bonded everything together with epoxy. I then formed the joints using the same process of laminating with epoxy resin and carbon cloth which I had used for my carbon frame. I cut duralumin cable stops and brake bosses with a water jet, bonded them to the carbon joints, and secured them with small screws. To finish, I coated the frame with clear epoxy varnish.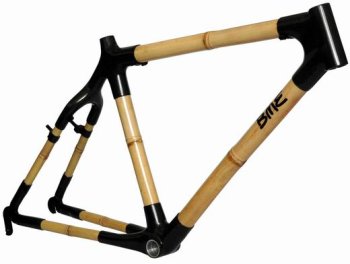 I also made one of my carbon saddles, but this time fitted to a bamboo post.
The frame weighs 1860g (4.1 lbs). It's a little bit heavier than my conventional carbon frame, but I expected that. Built up, the bike weighs in at 10.7 kg (23.6 lbs).
One year later
I was curious to find how my bamboo frame would differ from my carbon frame. My guess was that, thanks to the unique properties of bamboo, it would be better at absorbing road shocks.
Well, after a year's riding, I can confirm that the bamboo frame has fulfilled all my expectations. It worked excellently from the beginning and is still okay. It really does dampen vibrations better than the carbon frame, and so rides more comfortably. But the thicker stems used in the rear triangle make it nicely stiff. (Some time, I would like to compare the bamboo and carbon frames with other MTB frames, using the same kind of frame deflection test which Damon Rinard used for road frames.)
I have to confess to having made one repair. In May 2005, the aluminum brake bosses at the seat stay became slightly loose. I think I underdesigned this part. I replaced them with some brand new carbon composite bosses of my own making. Also, to relieve stress on the seat stays, I installed a carbon composite brakebooster.
Aside from those brake bosses, all the joints have held firm. I know I can expect the bamboo to shrink or split sooner or later, but I hope that my carbon fibre joints will withstand some shrinkage. And, if the bamboo splits, I can always repair it.
When people advised me to ride more carefully on this frame, I tried to ignore them. But I still find myself listening out for unusual sounds after strong bumps, and I inspect the frame after every ride. Maybe I should have more faith in the bamboo?
Nevertheless, I enjoy riding this bike more than the carbon one...