Trek 4500 Fixed
by Brian Matula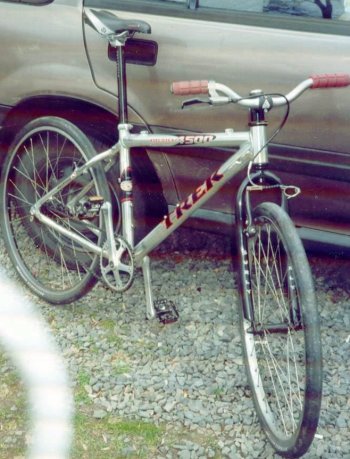 This bike is a new version of what I attempted with the "Red Baron" fixed gear. Gearing is 42/16, which oddly enough worked fine with the vertical dropouts. The frame is a Trek 4500 MTB, therefore 26" wheels. The wheelset is the same as on my red fix.
The cranks are 172.5 Dura-Ace off of an old Marinoni road frame, because in addition to being small, light, and stiff, the compact frame design falls into the category of short seat tube. I'm running a long seatpost, at least 300mm, but it's at the limits of its safe reach. I've hopped curbs on the 172.5s and with no problem. Offroad it may be a tad tricky, but it's all good. I tried shorter 165s, but they are on a road fix, and will stay there. Besides, this bike is intended for light dirt use and mostly as a (sub)urban assault craft.
The rigid Surly fork is thanks to the kind folks at The Bike Stand here in NJ, and the grips are Oury red. I swear by them, honest. Bontrager slick tires, 42x16 fixed gear and front brake. they rock. This thing is great for around town and does see some offroad use too, though I will want to replace the 172.5mm dura ace crankarms with something a little more "beatable" for dirt use come summer...