Wily trails
by Carlos Matutes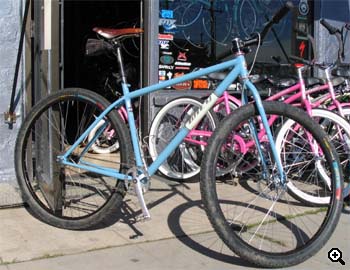 First off, a little background. I'm 33 years old, a 14 year veteran bike mechanic. I've ridden offroad for about 12 years, but I only discovered the joys of one speed about five years ago. I've ridden a fixed on dirt for about 10 months, after being inspired by Rudi Nadler's performance at 24 Hours In The Old Pueblo. My first offroad fix was an old 'cross bike, which I followed up by fixing my Surly Karate Monkey a few months ago.
I loved fixing in the dirt, but I needed better fit and comfort than the Monkey had to offer. Bike Sale! And with the proceeds, my first custom frame!
After conversing with him on the MTBR forums, and meeting him at Pueblo 24, I opted to spend my booty on one of Brad Seaman's Wily frames. Brad is a strong supporter of both singlespeeds and 29" wheels, so we definitely started on the same page. Wilys are built in Colorado out of True Temper steel. Brad's a wiz at frame design, and a heck of a nice guy to boot!
When I received my frame from Brad, I was stunned. Just beautiful. Fillet-brazed, lustrous powdercoat, supple legs... ahem... excuse me...
The Wily's first ride was supposed to be San Juan Trail, a bit north of my home in San Diego, Ca. But then the Ortega Highway got washed out in the floods, so a local ride was the order of the day. I chose the place where I'd seen the most coyotes here in California. I figured the Wily would feel right at home.
It was still pretty wet, and I was worried about causing damage. But the North County riders I'd hooked up with assured me that we'd stay off the sensitive trails, riding only dry singletrack. That meant that we'd mostly be on fire roads. Around here, the fire roads can get pretty technical!
Eight of us set out. Two were FS geared riders, the rest singlespeeders. I was the only fixer, although Tony (Smith, current US and World 24hr. Solo Singlespeed Champ--like the namedropping?) rides fixed offroad as well.
The ride did not disappoint. The climbs were super hard, since the fire roads were washed out and very rutted. There were a bunch of mud bogs on the flat dirt roads, and the singletrack we went on was rocky, steep, and had exposed water bars galore. I survived, only going down once. On a climb, no less! Stupid ruts... We did have one nice crash, as one of the group went over the bars into a huge, foul-smelling mudhole. "Man, that shit smells like mud!"
Great group of guys. I really had a good time riding with them, and will happily do it again. I mean, how often do you get to ride awesome trails with a Welsh tri-geek (and fellow former Rugby player,) who has all sorts of insulting things to say about Catherine Zeta-Jones? For the record, I still wouldn't turn her away...
So, on to the bike. I can't express how amazed I am by the ride quality. Like I said already, the workmanship is top notch. But the ride is incredible! Granted, this is my first custom, but it far exceeded my expectations. The bike felt like I had been riding it for years.
Fit is ideal, and Brad nailed the geometry. I'm not sure how you design a bike to handle as smoothly and stable as it does while flying down a rocky, rutted downhill, yet still have it turn on a dime. The front wheel is so much easier to loft than on the Monkey. This bike is, to cull up a cliche, downright flickable.
Brad understands fixed gear, too. There was no waggle in the back, but it still soaked up the rough stuff quite nicely.
How's it climb? Why, super, thanks for asking! Initially, I noticed the rear tire really digging in climbing in the saddle, and the front wheel was easy enough to pull up over water bars. But we fixers are more concerned with a bikes uphill prowess whilst standing. It's a mystery to me, but somehow the traction seemed even better out of the saddle than any bike I've ridden. Mud, loose rock, slimy wooden water bars, I don't think I got the rear wheel to spin at all! And the positioning is spot on. Comfortable and capable.
Oh, and for those of you who think that all rigid forks ride alike, let me tell you that you're dead wrong. Did this fork take up hits like my White Bros? Of course not. But the difference between the Monkey's fork and this one was night and day.
I had a great time, the bike got really dirty on its first ride, and no sensitive trails were harmed. Top that all off with a great Philly cheesesteak at Philly Frank's (along with every Eagles fan in North San Diego, I think) and I'd call that an outstanding first day with the new bike!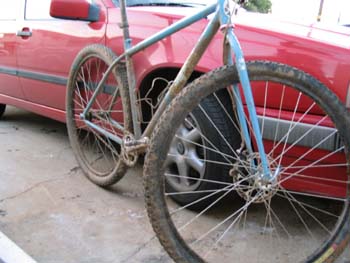 The build
Wily frame and fork (duh) King hs, pink! Race Face Prodigy stem Easton Moneylit carbon bar, 660mm Shimano XT disc brake (ft only) Brooks Swift, aged Honey Brown Ritchey WCS post Suntour XC Pro cranks Shimano UN-73 bb Crank Bros Eggbeaters Sun CR-18 rims Ft hub: Quando TX (product review in progress) Rr hub: Surly New fixed/free DT 14g spokes, 3x, brass nips WTB Nanoraptors