Steamrollin'
by Dan Artley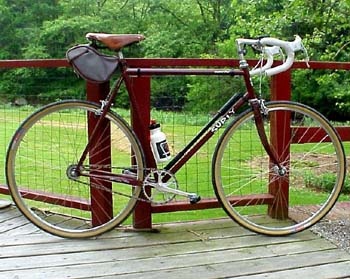 I got the Surly Steamroller early in 2001. I'd always wanted a track bike (actually one of every kind of bike, not something my wife agrees with), but because I wish to ride all my bikes, I was drawn to the equivalent of a path racer. My idea of a path racer is a road bike with track dropouts, brake(s), and the ability to ride fixed or free, but basically a one speed bike.
When I heard about the Surly and its low price, it seemed like the bike for me. Its got road geometry, check their website for its specs. The tubing is butted chrome moly, tig welded, with room for tires up to 38mm. Its got a fairly tight rear triangle, good bb drop and has a firm, but stable ride. I'm running 700x32's (measured) on it and built it up mostly for riding an unpaved rail trail next to my house. I mostly run a 42x18 on it for a 63 inch gear. I've had it up above 40 (freewheel) and it handles quite well, tight but very responsive. The big tires may be one of the reasons if felt glued to the road. I usually run low pressures on the trail, 55-65 lb., but for road riding more like 70-75 lb.
The frame comes with drilling for a front brake and bottle cage mounts for the seat tube. I had the rear seat stay brace drilled for a brake and used bolt on cable stops for the 1-1/8" top tube, because I couldn't find cable clips for it.
I wanted the bike for training and fun. With the rail trail grade next to my house going up as I head north, I wanted a bike that would give me strength and endurance training heading north and spinning going south. I've found the bike to be so much fun to ride that I've been using it for other type rides. Its quite hilly in my area, but I've found myself using the bike for at least half of my riding this year. I've done road rides with the faster folks using a freewheel to keep up going down hills. I've done critical mass rides with mostly messengers on fixed in downtown Baltimore. I live in the country but the Surly's great for riding to the coffee shop at the harbor downtown.
My longest ride so far is still short of 40 miles. I've experimented with smaller cogs on my double fixed setup, starting with 16 and 18 cogs. Now I've got a 17 and 18 on the back, but 18 seems to be the one my knees like the most, and I might switch back to 18 fixed and 18 free as the setup for it though its pretty rarely that I've used free. I still can't track stand but I have gotten better at skid stopping. It doesn't bother the knees too much on the trail. And I'm working on the track stand! I'll get it. I'm sure!
Spec Sheet
Surly Steamroller, 59 cm c-c, color sh-- brown Campy NR double crankset w/ 42 tooth SR chainring Speedplay Frog pedals American Classic adjustable BB w/ sealed bearings Shimano Dura Ace flip-flop double fixed hubs 36h laced 4x to cheap box section clincher rims Avocet Fasgrip 700x35 wire bead tires No name used roller bearing headset Technomic Stem Cinelli 64 Giro d'Italia bars Cinelli cork handlebar wrap Campy Cobalto brake levers set up as aero brakes Campy NR brake calipers w/ Mathauser pads on Campy blocks and a Campy drop center bolt for cog switching Campy 27.2 two bolt seat post Honey-colored Brooks B-17 saddle w/ black rails Blackburn bottle cage HPX frame pump Rivendell banana bag