Grasshopper
by Will Meister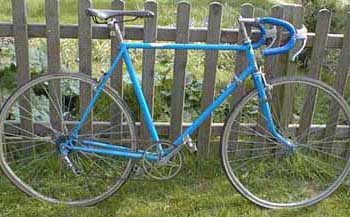 When they colour-xeroxed photos of the bikes I was interested in, they left the Hopper on the plate. It came out sideways on a sheet of pre-WWII utility bikes. I'd never even heard of Hopper and the componentry sucked, but I was struck by the way the frame had stayed true through what had obviously been years of neglect.
It was on sale for £15 ($20US) so I decided to take a chance. It turned up a couple of months later on a roof rack among a bunch of collector bikes. Under its coat of household gloss paint it looked pretty drab, but the frame retained that tough, solid appearance.
I started researching and turned up quite a story: Elswick-Hopper had been among the biggest UK manufacturers before the inevitable buyout. My bike was probably a Lincoln Imp, a mid-range tourer churned out in the 1950s, the Benelux derailleur and Williams cottered chainset factory originals.
This was not good news. I'd been hoping for a svelte 50s sports tourer to make into a town fixie. I had a lookalike on my hands. Still, I figured that it would be a good enough beater.
The BB and headset were long seized, the hubs worn out. Stripped of steel components, the plain-gauge frame still weighed 7 1/2 lbs. But with its laidback angles and long fork rake it would stand any amount of pounding, and the massive clearances would swallow any tyre I cared to fit. I'd never heard of anyone riding a fixed gear bike offroad, but the idea appealed to me. I set to work on finding components.
While stripping the frame down for a dire home aerosol spray, I was delighted to find a '531 frame tubing' transfer. It might be heavy, but it was all lean meat--no flab.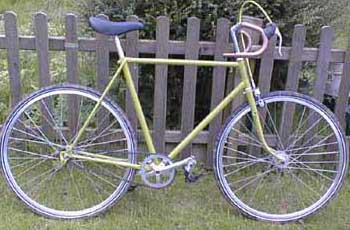 When I took delivery of the built-up bike I was amazed by how well everything worked. The shallow angles and big tyres gave it an eerie resemblance to some of the early mountainbike pictures I had seen. At speed over rough surfaces, the handling came into its own, the bike holding its line with the singlemindedness of a carthorse.
It weighs 23lbs, but how many fully-rigid touring frames will take treeroots in their stride?
Spec Sheet
Elswick Hopper Lincoln Imp c. 1950 23"c-t Sugino 43t crankset Old MTB cage pedals with Elite plastic toeclips Shimano BB Maillard 36h hubs Schwalbe 37c tyres Alesa box rims No name headset Unknown stem 70s GB bars Benotto tape 70s Weinmann lever Alhonga pattern dual pivot brake Specialised saddle Magic sprocket from 1940s BSA 3spd hub