Phil-N-Me
by James Valiensi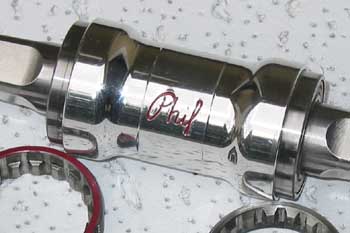 I like shiny bike parts. My favorite material is bare aluminum, highly polished, with no protective coating to dull the gleam. I leave fancy anodizing for the poseurs. Polished alu is timeless, above fashion. It goes with everything.
Polished aluminum requires re-polishing every so often, just like your momma's silver place settings. Manufacturers tend not to like it, for a simple reason: it's work. Look at the biker chicks spending hours shining up the hog. Most makers find it more convenient to anodize, paint, or coat their components.
Phil Wood is the exception. From their base in San Jose, California, the company produces the most beautifully polished hubs and bottom brackets available anywhere. Their product brochure resembles a jewelry catalog.
Phil stuff is suitable for all applications, but particularly for the cyclist seeking the unusual. If you are an anti-social freak who wants to build and ride a fixed-gear offroad bike, Phil can help.
Phil Hubs
Phil hubs come in many flavors. They make MTB hubs for freewheels or cassettes, with or without disk brake mounts. They offer a full range of road and BMX hubs. They have the standard spoke-hole drilling patterns and will do custom patterns as well. Most of their hubs are available in any spacing you want, bolt-on or quick release.
Options for the fixed-gear rider are particularly good. Phil track hubs come in high and low-flange versions, single-fixed, dual-fixed, or flip-flop. The fixed gear mounts include a bitchin' lock ring based on the Campy pattern. There are stock axles from 120mm to 130mm, and custom sizes are available.
Fixed or freewheel, the durability of Phil hubs is legendary. 15mm diameter stainless steel axles are standard across the range, and even the lightweight track hubs spin on an outsize 12.7mm. It is almost impossible to bend a Phil axle. You have to work pretty hard to wear out the bearings, too: I've been riding Phil hubs for seven years and have yet to replace one unit. Mind you, if you do manage to rupture a race, replacement couldn't be much easier. The hub takes apart with a couple of Allen keys, and the new bearings pop right straight into the shell--no cones, no adjustment.
But the real clincher for 63xc.com types is the fact that you can take a Phil track hub offroad. Yeah, really! Bear in mind that a couple of well-known makers won't warranty their track products for road use, let alone in the dirt. Build your wheels on a set of Phil hubs and go trash the trails. You'll destroy rims, frames and your knees, but the Phils will beg for more.
Phil BBs
Then there's the bottom brackets, tough-as-old-boots stainless or Ti shafts housed securely in alumininum or magnesium casings. They're pretty too, so much so that it's a shame you can't see them once they're installed. (At least the mounting rings flash the discreet incised Phil sig.) The range covers all kinds of square taper crank, and there'll be an ISIS option soon. All mine run as well now as the day I bought them.
I nearly forgot the chainline. Fixie riders worry about chainline, right? Phil BBs have a neat lateral adjustment hack, enabling you to set the chainline 5mm left or right of center. True precision dial-in of your chainline requires a couple of special Phil tools. It's worth it if you never launch another chain.
Quality
This quality doesn't come cheap. And there's a weight penalty. But I want a bike that works well all the time, wherever I ride, in mud, rain, trail dust... And at the end of the trail, I want to hose the bike down and forget it, not strip and regrease with a manual open on the bench in front of me. Phil lets me do all that, and more.
But, even if he didn't--I still go for the shiny metal.