Big Rings and Singlespeeds
by Jason Millington
It has been a couple of years since I wrote about converting a disc hub to fixed gear, and the following might be considered a sequel to my original article.
One of the problems in converting a gearie to a fix is that you won't easily find a big cog to match the outer chainring. This leads fixers to opt for a singlespeed-style 36:18 or similar setup, which means buying an expensive new cog and chainring. What a waste! They'd get more wear and less chainlaunch with a 44:22 setup based on their existing big ring.
A year or two ago I was looking at my vast collection of unused 22t granny rings when I suddenly realised: hey, these would make good fixed gear cogs! Immediately I thought of machining adaptor plates to allow me to bolt the rings with their different bolt patterns to a standard six-bolt disc hub. Knowing the way my mind works, I waited for the revision that would make it accessible to the average bike tinkerer. A couple of months later my backbrain sent me the postscript I wanted. The beauty of the idea lay in its use of symmetry.
If you want to go singlespeed, fixed or freewheel, here is what you need to do. For starters, find a MTB crank with standard 44-32-22 chainrings. You're going to move that 22t granny ring to the rear wheel by splicing it with a standard 16t cog.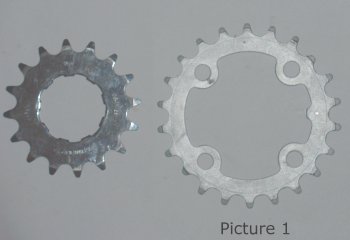 The 22t, 104mm (four bolt) chain ring can be attached to the 16t cog because the two components share four-fold symmetry (fig 1). The resulting mutant cog can then be drilled for use on a disc hub as per my original article or attached to a regular freehub body. To make the splice, you will need a chainsaw file or similar round file.
Step 1: Secure the 22t chainring in a vice, and remove ~ 0.5 - 1.0 mm of material from the outer portion of the chainring bolt holes. The resulting holes will be ovalized, allowing them to line up with the gaps in the 16t cog. (You could file the 16t cog instead, of course, but it's better to work on the ring -- that way you can use the cog again in future.)
Step 2: Bolt the two cogs together with four chaining bolts (see fig 2). Use appropriate measures to ensure proper chainline and go ride.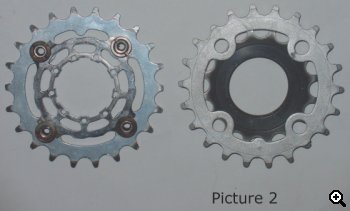 The same basic technique can be applied in other contexts. For instance, a small chainring can be spliced with a track cog. Another option is a 16t Campy cog spliced with a 22 tooth cog for use on Campy freehub bodies.
Maybe you can think up some applications of your own!
Remember: aluminum chain ring bolts are not a good idea for singlespeeds. If you are going to drill a cassette cog for disc hub mounting as per my original article, I recommend using a three or four bolt pattern.