Sisyphus
by Jeremy Whitehorn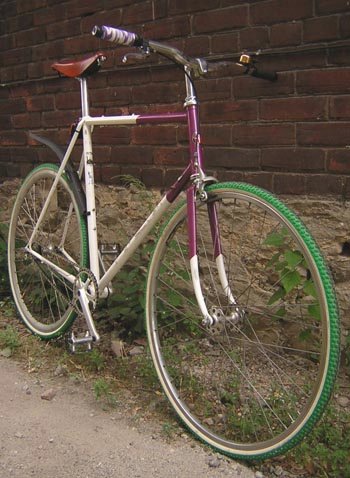 The idea of putting together a riser bar fixed hit me last winter while I was pedaling a converted singlespeed mountainbike through the city snow. Sure, it was steady and predictable, comfortable even. But since when does one stop tinkering in that Sisyphean trudge after the perfect ride? 'The control in the snow and dirt you have with a fixie is unmatched ,' I thought. 'Plus, if you ride a fixie in the Canadian winter you are not only a dedicated cyclist, but you are now hardcore and that is just plain cool.'
Needless to say, this stream of consciousness led me to eBay in pursuit of the ideal fixie frame. I think I read somewhere that it should look like crap but ride like gold. There were plenty of old Raleighs and Peugeots but a combination of monetary and sizing restraints meant that a mid 80 s lugged Schwinn road frame did the trick.
After much tinkering with parts, particularly the bar/stem/brake combo, I came up with what you see here. I realized early on that this project wasn 't meant to be as fast as my fixed gear road bike, so this one got 39x18 gearing. Slow enough for groceries but quick enough for gravel paths and fire roads.
You may be thinking that this is not an offroad-only bike. That's true. But it does embody the spirit of the adventurous cyclist, living by the 'where shall I ride today? or 'which route shall I take home from work?' mantra. While I may not be counting laps of my local singletrack, I am prepared, should I wish, to dive into the forest on my way home, or get lost on back roads and arrive home, dehydrated and dirty, long after dark. It is strong enough to take the hits this kind of riding offers, but just rusty and dilapidated enough to enjoy it.
I enjoy it too. Hopefully, the Schwinn will stay with me for a while. It seems to be working.
Rear wheel: Quando flip flop w/ 18t Miche cog laced to a CXP 14; no flop side at present Front wheel: Old Campagnolo rim, hub and skewer Tires: Vittoria MasterCross 700x27 tires (probably the most expensive part) Gruppo: Shimano 600 headset and cranks w/ wornout 39 tooth ring, old 105 dual-pivot brake Chain: KMC BMX 3/16" too wide for my chain tool Pedals: VP cheapos Bars and stem: Wide oldskool GT risers on a longish ITM quill, Tektro cyclocross lever Brake: Shimano 105 dual-pivot Trash finds: Old blinker light and fender Saddle: Brooks B-17 (of course...)