On-One Il Pompino
by Jezz Harty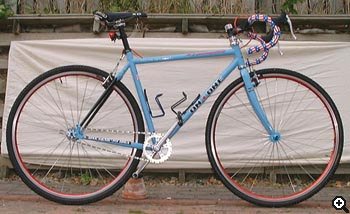 I saw my first Pompino on the Singletrackworld website, and clocked it for future reference. Then someone turned up with one at a singlespeed do. I borrowed it, rode it and didn't give it back. Nearly.
What actually happened was that I started selling things off in order to afford the Pompino. Last to go my was my beloved old Pennine grass-track, which had seen me through years of traffic-dodging courier work.
Even when I'd traded most of the parts bin, I couldn't go for the super-deluxe Pompino frame deal, the one that gets you the big carbon fork. I bought the basic all-steel version--which, at UK£220, is not going to break the bank for most people. I know of forks that cost more than that...
The buy
On-One deal mostly off their website. Ordinarily I'd have paid ten or twelve quid on top and the frame would have been couriered to me. As it turned out, I found out that Brant of On-One was doing a shoot just down the road from me, and I went to pick up the frame from his own hands.
The frame kit is exactly what it says it is: one frame and forks, steel, mountainbike spacing. Medium in my case. The frame has bottle and canti/V-brake bosses, and it comes in an odd powdercoat blue that reminded me of an old VW Beetle I used to know. I liked the colour, which was just as well, as On-One don't offer any choice.
The build
I bought a Planet X bar and stem--good feel, cheap, and a nice combo with my old Exage levers. I'm not quite so sure about the cheap Shimano cantis, but they'll do until I find the vintage Mafacs I really want. I had Cook Bros 175mm cranks and Time pedals in the stockpile already. They worked out nicely on the Pompino's high BB, and the 34t chainring gave me a gear just above 2:1--a good choice for the local hills.
For the wheels, I went to see Andy Whitworth and left him to it. 135mm spacing gives you a pretty good choice of components, especially if (like me) you like to ride free some of the time. Andy came up with an interesting set, Ambrosio rims onto some blue ano hubs, no logo visible. The front is radial, and the back is radial on the free side. People tell me that radial gives a harsh ride, but I can't feel any difference--except the spokes are easier to clean.
The blue hubs got me thinking, and I went off in pursuit off some matching bar tape. I didn't find it, but the bargain bin at the bikeshop held something even better--a fresh roll of stars-n-stripes print, probably fresh from the USPS team. I couldn't resist.
The ride
I've ridden MTBs and cyclocrossers. This is definitely more of a crosser, tho' it's a good bit more forgiving than other cross bikes I've ridden, especially since i upgraded to a full set of Conti tyres. It's nice and flickable, and encourages you to try finesse rather than steaming through everything in your way the way you do on an MTB.
I've ridden it everywhere on and off-road. Like most 'cross bikes, it can get a bit sketchy in the wet, but that's about the worst thing I can say about it. Mostly, you don't have to think about it. Just ride. Like Brant says, it's a real do-anything all-rounder.