Karate Monkey
by Joaquin Sanchez
I can hear a bird singing. I open my eyes and look outside my window. It's sunny. It feels cold. Nice.
I get out of bed and into the shower. Coffee.
Yesterday I ran a 32:15 (hard work). Today I'm trying the 32:17. The phone is ringing... leave a message if it's important, I'm off on my monkey: Surly Karate Monkey, 29" mountain bike, fixed.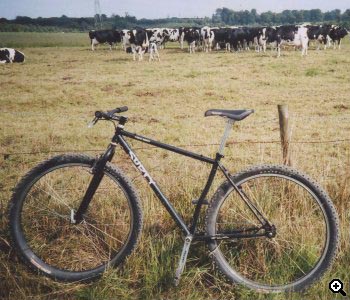 The thing with 29" wheels, they just roll, and it feels like you can go on and on, and over anything/everything. And, if it's fixed, you just keep rolling. Just keep going on, just keep your momentum. And riding fixed offroad it's just so much fun, and that's it, that's what riding fixed is all about, isn't it?
I shouldn't have had all that Guinness last night. This little hill seems endless. But it's so much easier with the 17t cog. Off the saddle and up, oh, it climbs so very nicely: short chainstays, you see. The 29"x2.2 Bontrager Jones ACX help a lot. Big fat tires. Bigger is better. I'm not an expert wheel builder (yet) but the 32 spokes on my Salsa Delgado/Surly New Hub wheels are doing a pretty good job. And now down. This is fun! I spin out rather easily, but it's just a matter of control. Front brake (Avid V-brake) is all you need really. Trying to control the spin. It's so responsive, so quick. Fast, faster. Oops, a bit too fast. Easy now.
These wheels just suck up everything (the 4130 steel tubes make the monkey such a comfy ride). It's like having suspension. Maybe a bit less PSI. Oh yeah, this is better. I'm getting hungry. I've been experimenting with different gear ratios, stems, bars, and tires. I've tried Thomson 120mm 5degree stem, Easton Monkey Bars, Easton EA70 flatbars, On-One Midge bars... WTB Moto Raptor, Continental Vapor, Specialized Nimbus (road)... Today: flat Surly Torsion Bar, with big sweep, nice. Along with a Salsa 90mm 0 degree stem.
This is it now, I think. I love this set up for offroad riding. It just feels... nice. Rides like a (dream) bike. I'm in control. Monkey goes where I want to go. I'll try 34:17 next time, maybe I won't spin like mad going downhill (thanks Will). This is lovely singletrack. Cows having breakfast watch me passing by. Proper British summer. The smell from the trees. And the colors. I can see a few hot air balloons. Beautiful sky.
Crap, I didn't see that rock. Look where you're going! That was close. Wake up. I could do with another coffee. 175mm (Race Face Turbine) cranks on a low bb can be a bit dodgy when it gets technical.
Oh oh. I hope I have a spare tube. Oh yes. Ok, I don't run a rear disc brake, otherwise with the horizontal dropouts you have to remove the caliper to take the wheel out if you get a flat tire. Time to sit down and join the cows for breakfast. I'm so glad my Dad sent me this jamon, it makes a really nice sandwich with a slice of tomato and some olive oil.
Last month I went to my hometown on holiday. Riding my monkey on the beach late at night was quite an experience. On-One Midge bars, so comfortable with Dia-Compe road levers. 36:17. Low tide. Miles and miles on hard packed sand. The smell of the sea. I can still smell the salt in my bottom bracket ( I need a new bb). I'm going back to Cadiz soon, I miss the sea, and the brightness. And I'll bring my monkey along again, with road tires and a 44:17.
That's one of the things I love about the Karate Monkey, so many possibilities. So much fun. It can be whatever you want it to be: mountain bike, road bike, commuter/touring bike (it's got eyelets for fenders/racks), demolition derby bike... singlespeed, fixed... you can even run gears (yeah right) if you feel the need. I'd like to do the C2C on my monkey, fixed. My mates say I'm crazy, but I think it'd be fun.
Oilve oil on my tire and dirty hands. The cows are getting a bit too close. Off I go, monkeying down the hill.