Lost in the Rocks and Trees
2004 Mattawa to North Bay, Ontario
by Larry Manuel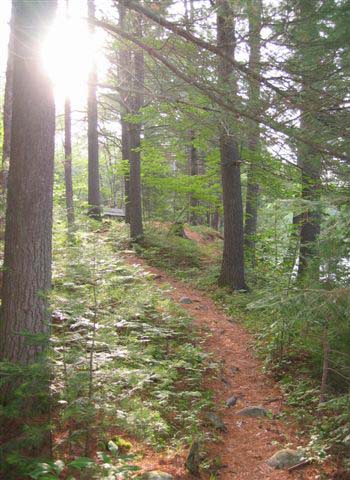 "The woods are lovely, dark and deep,
But I have promises to keep" -- Robert Frost
Two years ago, I looked at the info for this northern Ontario race with Grant, my fellow cyclocross bike-adventurer, and said, "We're not ready yet". Last year we balked again. Early this year, we knew our time had come.
Some quotes from the website:
"...more than just mountain biking; it is also about adventure, exploration, exhilaration and survival!"
"...participants will follow an arduous path along the Mattawa river through breathtaking and demanding terrain for 100 kms..."; and
"It will be the event you will be talking about long after the bike season ends."
Hugh Black, my framebuilder and sometimes guru, gave me only one piece of advice: "Don't use skinny tires". I assumed he meant 700x19c track tubulars. How could my cyclocross tires be considered "skinny"?
Sure enough it was a challenge. In the days before the race, roads just north of the trail were washed out by heavy rains, isolating the pulp and paper town of Temiscaming, Quebec. At the Mattawa starting point, the mighty Ottawa river was four feet above normal levels.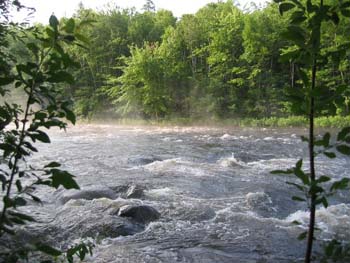 I took my True North cyclocross bike. 39x20 was my gear choice for the first 60 km, 39x23 for the remainder. When Hugh spotted my bike in the starting area, he said, encouragingly and emphatically: "Are you on glue?" I took that as praise for my unusual choice.
Grant and I had resolved to ride conservatively from the start. Our goal was just to finish. We took lots of food, drank lots of water, and prepared to ride all sorts of terrain.
In the early stages, we saw rocky descents claim two riders with injuries. The loose, rounded stones made braking impossible if you let your speed creep up too high. Experience was the only way to avoid a fall. We rode together, chatting a bit, and pedaling, always pedaling.
Once the rocky descents were complete, the course settled into mile after mile of mud, water, creek crossings, and rutted logging trails interspersed with huge black-mud pools. Riding along in the brilliant sunshine, on a not-too-hot day, we noticed how the deep, shady woods were alive with the mellow sounds of gurgling, dripping water. This is to be expected in late April, when the snow is melting. Usually, by mid July, the woods are tinder dry.
The checkpoints were microcosms of civilization, rare and much welcomed.
"We sleep in the sleep of ages, the bleak, barbarian pines;
The gray moss drapes us like sages, and closer we lock our lines" -- Robert W. Service
We rode through water, mud, water, mud, repeating in a cycle every few hundred meters. Our skinny Schwalbe 32c cyclocross tires worked amazingly well. We were both riding tubeless, using Stan's system.
"Lover of the Lone Trail, the Lone Trail waits for you." -- Robert W. Service
Those forest trails held some surprises. Near an abandoned mica mine, for instance, we found that the surface was covered with billions of shimmering scales of mica for several kilometers.
Climbing is my penchant, and at the 90 km point, I met my heart's delight: a long, rocky, wet, rutted climb on the cross-country ski club's trail network. I was able to sit and grind, grind, grind my way to the top. To climb that hill without leg cramps was the high point of my season.
My secret weapon for nutrition: 3 liters of soy milk, a 50/50 mix of chocolate and vanilla. I froze this in my Camelbak bladder, and it was still slushy on the morning of the race. After the 50 km point, I allowed myself to start drawing on this reserve, and it was ideal, combining energy, and hydration, with a reasonable balance of nutrition.
We finished in 9hr 40, including roughly 8 1/2 hours rolling time. I plan to be there next year. It is an experience that I had no desire to repeat until about a month after I finished. Now, I'm keen again. It's funny how periods of duress seem more appealing sometime afterwards.
"And miles to go before I sleep,
And miles to go before I sleep" -- Robert Frost