My Fixed Gear Dream
by Leif Borgeson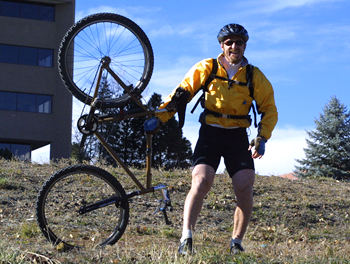 I've always loved the freedom of cycling, ever since I got my first Sears bike. There is nothing to match the simple pleasure of propelling yourself across the countryside.
This is the story of my fix. Although it's only five months old, I have spent a lot of time on it. I doubt that I will be returning to gears anytime soon.
My brother Lars planted the seeds some years back, when he mentioned that he had attended some local singletrack races on his handbuilt singlespeed. That got me thinking back to my first bikes. They were banana-seat Schwinns with coaster brakes, the kind we all had as kids. OK, a few lucky kids might have had the hot accessories--sissy bars, steering wheels, tiny front wheels, Bendix hubs with stick shifts--but most of us rode and loved singlespeeds. When Lars spoke of the camaraderie of the singlespeed clan, the feeling of accomplishment he got just from finishing a race, it made me excited and nostalgic all at the same time.
In junior high I lusted after a real road bike and finally talked my parents into buying me a new white Peugeot. It had high flange hubs, a lugged steel frame, a leather saddle, and--count 'em--ten speeds. I was hooked on gears, an addiction that was to grip me for the next 25 years.
Fast forward to 1989 and the mountain bike craze. I bought Specialized Rockhoppers for my wife and myself. Now I had more gears than I really needed, but I also had the ability to go anywhere I wished. Singletrack, dirt roads, around town--it was all fair game. This was cool! I relished the freedom, believing it was the gears that made it all possible. The addiction was strong.
During those first years of carving up the dirt roads, Lars was finishing up his degree in art and math and had begun to build bicycles. He brought home some of his wilder projects, all of them singlespeeds. There were cowboy bikes with real bullhorn handlebars, and snake bikes with frame, chain and wheels enclosed in a beautifully patinaed metal skin. There was even a mountain bike with a square stock frame that sported a Caterpillar paint job and a hand-operated dump-bed. Lars' projects sure got you noticed!
In fact, bikes everywhere seemed to be going crazy. Suddenly, everyone I knew had something that put my old Specialized to shame. The roads were filled with industrial sculptures, full-supsension dreambikes you could pick up on one finger. They were beautifully machined from aluminum, magnesium and titanium. Their bearings were sealed, their seat posts sprung, their saddles gelled.
I admired, desired and planned to acquire.
Upgrading was out of the question. I was going to have to start over. Last winter, I started to accumulate catalogs and glossy magazines. Those dreambikes cost more than twice what I paid for my first decent car!
Then I remembered what Lars had told me about the singlespeeders. Simplicity would be cheaper and a lot more fun. I looked at the old Specialized and imagined a ride with one gear.
The first steps were easy. I read Sheldon Brown. I pored over web pages. This would be an act of de-evolution! A single spring evening in my garage was enough to complete the transformation. I put on 36x17 gearing, using the derailleur as a chain tensioner.
The next day I took my creation out for a ride. (I had ridden for the previous few weeks without changing gears, so the initial spin was not a total shock to my system.) The results were pleasing. No shifting, no thinking, just riding.
My friends all thought I was demented. "Only one speed?" was the typical response. I was surely working harder, but it got easier and easier every day I rode. Soon enough, I could keep up without difficulty. I was hooked. Again.
The derailleur setup was not without problems, though. Since the drivetrain was over ten years old, the chain skipped when I climbed. I did my best to get good chainline, but the worn hyperglide gears and wobbly changer creaked and popped under tension. I needed a real single speed set-up. More surfing, a few e-mails and within a week I had a pair of Paul fork-ends in my hands.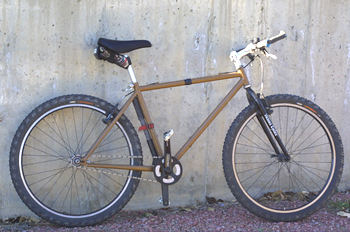 Lars, now working as a fabricator for a prominent glass blower, said he could easily do the necessaries. Two months later I had the frame back. Stripped of all its eyelets and most of its cable guides, it looked trim. Lars had found a powder coat that resembled a bronze hammer tone. It was different, and it reminded me of something. Perhaps it was the shade of a fresh dog scat? Anyway, I loved it.
I splurged on a Truvativ ISIS 175mm crank with a 32t ring, and a Vicious Cycles rigid fork to raise the BB, compensating for the longer cranks and the higher rear axle. I swapped out the headset for a new Ritchey. A Salsa stem and an older Titec flat bar with Control Tech bar ends would round out the cockpit. I bought Deore Vs with $5.00 Tektro handles from the used bin at the local consignment shop to replace the original brakes, but kept the Specialized saddle and post and stuck with my old pedals and clips.
My buddy Jerry at Mountain and Road Bicycles in Idaho Springs built new wheels using Mavic 517s, Deore LX front and Surly 1x1 rear hubs. To bring up the rear, I opted for 16 and 17t freewheels, but--after reading one of Sheldon's articles--I decided to install a 14t fixed cog on one side. This seemingly minor addition was to have a permanent impact on my riding.
Jerry put the drivetrain together. He seemed a little perplexed by that fixed cog. It took a bit of grinding and sanding to make it work with a BB lockring.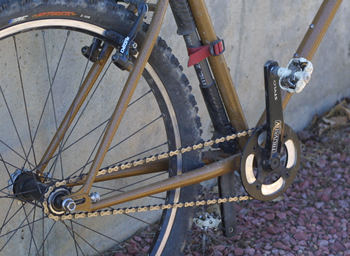 In July 2002 I picked up the bike and took it for a spin. The brake adjustment was tight. With the 16t freewheel, it barely fit together, so Jerry and I flopped the wheel to get a bit of extra space. I rode home on the 32x14 fixed setup.
Whoa! Was this different. I had ridden a friend's fixie in college, but that was a road bike. My Specialized was a mountain bike through and through, and now it was an MTB with attitude. It was simple, light, and it opened up a whole new realm of pedaling. And I do mean pedaling. I couldn't stop, I didn't stop, and I didn't want to stop.
At first, the hills and the gear inches were simply not compatible. Fine. I figured that I'd either get stronger or just walk more. Every day, I would find an hour to hit the single track behind my house or some pavement near the office. I spun out. Climbing got easier, my balance got better and I began to finish whole sessions without using my rear brake.
I rode entirely alone, not wanting to test myself against others just yet. Toy, my Australian Shepherd, appreciated my new riding style. He was content to pace me most of the time, pass me on hills and stop whenever he wanted because he grew used to my cadence and knew I wasn't about to scream away on some downhill. I rode more and more.
I sought out logs to jump and rocks to hop. Creek crossings guaranteed wet feet--I loved every drop. Other riders ignored me, my shit brown bike rendered somehow invisible by its lack of suspension and other trick bits. I felt great. The freewheels sat unused on the bench and I finally made the dive into the world of SPD pedals and cleats. Now this was bicycling! My guess is that if clipless pedals had been invented first, the development of the freewheel would have been significantly delayed.
After five months on the fix, I still ride four or five days a week. I can climb with most riders, though I'm still slow on descents. I often spend a whole day on the trail without ever touching the brakes. In an emergency, I'll grab the front brake. I do all my rear braking with my legs. It's just like my days of coaster braking on the old Schwinn. I've come full circle and I'm still hooked.
What a feeling, my fixed gear dream!