Lilli
by Meik Weissert
It all began in Berlin. SSWC 2004, the bus to the race site. A double-decker with seats along the windows, in the rear. I talked to Rudy for a while. I don't remember what we talked about, but it wasn't fixed gears. Then I saw him riding, during the race. I don't know why, but something in my head completely switched over that day.
As soon as I got home, I built my first fixed wheel. I used a Promax disc front hub respaced to 135mm with a DX sprocket drilled out to fit on the disc adapter. Right from the start I knew that this it. Biking would never be the same again! Being attached to my bike that way, surfing my trails in this indescribable unity of man and material just blew my brain.
I called this first fixie "Sissy", after the Austrian empress. The frame was a lugged steel Trek 930, already welded at the chain stay. After a short intermezzo with a fixed Shimano rear hub (a bit of file work and a reversed pawl) I went for the ultimate solution: a Phil Wood Kiss Off wheel set and Paul dropouts. And that's how I biked through the first ten months of 2005, Sissy and me...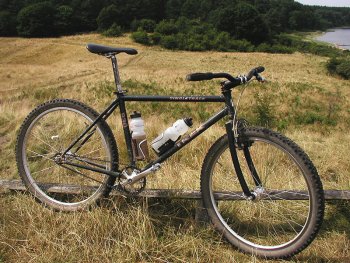 Then: a crack in the right chain stay.
The following still seems like a dream...
I started a thread in the German singlespeed forum, searching for a cheap replacement frame. What happened instead was as unpredictable as incredible: two friends of mine started a telephone marathon which ended with the 'dirty dozen' buying me the frame I always dreamt of...
Several days later I held it in my hands: my Germans Team Singlespeed Frame. Custom built for the guy who initiated all this, with longer steerer tube and chain stays, and rear brake housing in the top tube. A beauty in white. I called her 'Lilli'. Like 'Sissy', it's a diminutive of 'Elisabeth'. Also, of course, it reminds me of the white lily. A hint also, that it's still the same bike, kind of. If there's soul in bikes at all, these two bikes have only one. ARE one...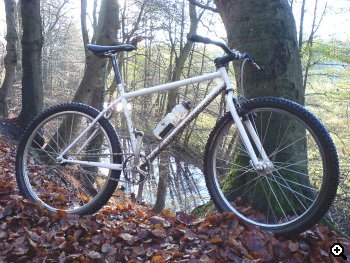 I accidentally found a perfect setup for Sissy by mounting an old Tange Struts fork. Lilli's geometry is even better.
I don't often use a rear brake, but the cable housing in the top tube is perfect for the cable between the battery and the lamp. I've covered the upper surface of the top tube with motorcycle tank foil, because I love putting my feet up on long descents.
Recently I mounted a 750 grams Soma 456 steel track bar, with a white powdered Shogun stem and Brooks leather bar tape. It's great to rock my not-so-heavy trails lying on the bike, hands on the lower ends of the bar.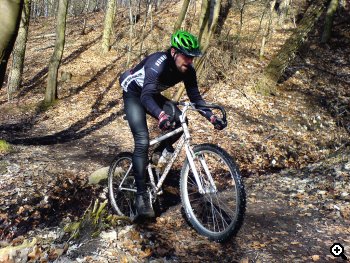 I live in a flat region, so I don't get many chances to ride the trickier and steeper stuff, so I decided to give up on the multiple positions of the track bar and switch to H-bar setup. H-bars are expensive, but there's always someone who can help on our singlespeed forum! Lilli has just been given a 'beheaded' A-bar, welded from 2mm thick STS steel and weighing almost exactly one kilo. It's slightly narrower than the original H-Bar and powdercoated in black.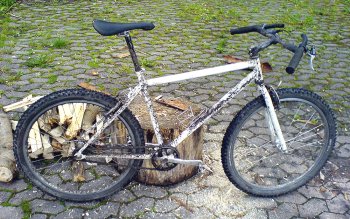 If people ask me (and they do often, of course) why I do it, why I ride fixed offroad, I cannot really answer. At first I changed because I got a sort of strange itch. Since then, I've had no thoughts of changing back. Scorching, fixing offroad is not like any other kind of biking, not for me. It is so much more. I don't do it for any particular purpose -- training, winning something, causing a stir, having fun or coping tricky situations. But every time I do it it is something completely new, a stunning explosion of bike, man and nature, an inseparable unity that extends into everything around me...
Spec Sheet
Germans Team Singlespeed 18" frame, Columbus Nivacrom ZONA Germans CroMo 415mm fork Cane Creek C2 headset Syntace stem with Ti screws / Shogun Steel "Beheaded A" self-welded Steel bars / Soma 456 Track Ritchey WCS grips / Brooks leather bar tape Shimano XTR CroMo seatpost Selle Italia Flite Titan '95 saddle Shimano UN72 BB (Phil coming) Shimano XTR FC-M900 cranks Syncros Hardcore 38t bashring, teeth filed off KCNC DH 39t ring LOOK 4x4 CroMo pedals Magura HS33 and/or LX `98 V-Brake with Precision Proshift Lever Phil Wood Kiss Off Fixed/FW hubs Mavic XC717 front / EX721 rear rims Schwalbe Big Jim Light 2.25" tyres Phil Wood 16t 3/32" cog KMC Kool Chain, 1/8" Campagnolo Record front QR Weight 10kg approx