Belgian Mix
by Michael Stenning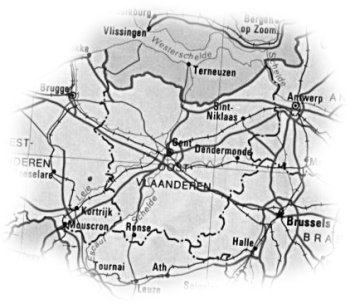 I sat slumped in the ancient Volvo we'd bought with forged documents on the Belgian border. Night was creeping in, the warm neon glow of the red light district throbbing its warm and seductive reflection in the windscreen. One of the more adventurous streetwalkers had already closed in on the car. I turned up the cassette player, hunched down inside my careworn leather jacket and avoided eye contact, fumbling with the lenses, batteries and chargers sharing space with my Dictaphone in the hard case in the passenger footwell, taking another anxious glance in the mirror.
We were covering the Travail d'Enfer, a minor race around the Ghent back roads. Not something the British press would ordinarily take notice of, but I'd spotted a promising young rider the previous season and had persuaded Philippe the trip would be worth his while.
He knew the area well and needed little persuading. He was usually keen for a weekend away. He was presently somewhere in the rat run of cobbled backstreets behind the Volvo on a 'comfort break'. I'd been invited, but sex with a peroxide blond junkie in a tiled room the size of a shower cubicle held no attraction.
My eyelids were dropping. I wanted to be back on the road. I took a swig of my potent mood medicine from the flask in the glove compartment. The rush of caffeine and sugar elevated my mood but rapidly gave way to paranoia. I contemplated my goodbye a few hours before. "Another fucking road race. What for? We never see the money, Shaun. I can't hold on much longer. If my mother knew the shit you've put me through it'd kill her..."
To be continued...