Bucks 100k
by Scarlett Parker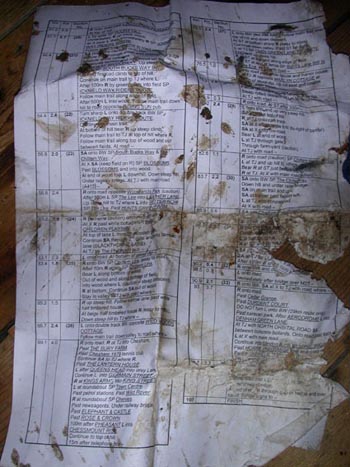 May finally arrived, and with it my last major ride as a 30yr old. Organized by West Drayton Mountain Bike Club, the 'Buckinghamshire 100k Off-Road Classic' was billed as a tough endurance event based around the Chilterns. Due to the heavy rain beforehand, it lived up to the hype.
I'd been looking forward to this event for ages, and had decided that my final preparation would be a 75 mile road ride on a 72" fixed around the Mendips in Somerset. My girlfriend's mother lives in Glastonbury, so I'd planned a route up Cheddar Gorge and then on to Portishead, home of the trip-hoppy band of the same name, and back again. It turned out to be a gloriously sunny Friday, and I was delighted with the way I powered up the gorge, climbing in the drops, possessed by the spirit of Il Pirata. A few hours later, however, on my way back up the other side of the gorge, I received unpleasant messages from the nerve-endings in my right ankle. An old over-use injury, which first announced itself on a 130 mile round trip between London and Oxford a few years ago, had flared up once more. Luckily I was only 15 miles from Glastonbury, so I favoured my left ankle as much as possible, and avoided any more grimpeur heroics.
The following week was an endless round of ice packs and compensatory exercises as prescribed by my physiotherapist. After much internet trawling, I also discovered that vinegar, one of nature's cure-alls, is a popular pain reliever amongst arthritics, and felt tangible relief after applying a compress of 'salinated' malt vinegar for an hour or two.
So, panic over, come race day I felt recuperated enough to take the plunge in the Chilterns. Despite my assertion that I'd switch to a 58" gear if there was rain preceding the event, I ended up sticking with the 65". Why? Well, I calculated that it would mean about 2500 less pedal revolutions over the 100k, which meant my ankle would be less over-used; and whatever sections of the course I'd have to walk in a 65" gear, I'd probably have to walk in a 58" gear anyway. With damage limitation in mind, I strapped on my neoprone ankle support, bunged a blister pack of fast-acting Ibuprofen in my jersey pocket, and headed out to catch the 7.15am tube from the Barbican.
About an hour later, I disembarked at Uxbridge and cycled the short hop to Denham Country Park. About 50 riders were undertaking the 100k circuit, with half as many again doing a mini-event of 30k. Hearing the usual mutterings of 'Hey, that nutter's doing it singlespeed', I was only too happy to point out that I was actually riding fixed. Nobody seemed to think it was a good idea...
I'd never done an enduro before. It's quite a strange experience. I didn't realise just how much of the time I'd be riding on my own. I don't have a problem with this. You find yourself drifting between different paced riders according to fitness, fatigue, food stops and the almost inevitable occurrence of punctures. I ended up getting two of the latter - both in the front wheel (thank heavens for small mercies!), but more of that later. Navigation was based on small orange signs attached to lamp-posts and hedgerows, orange arrows painted on the ground (biodegradable paint, apparently) with a route map/direction sheet as back-up. Thankfully, at some of the more confusing sections, I happened to hook up with old hands who'd come prepared with map holders affixed to their stems. I was more than happy to follow their lead. Even so, I still lost about half an hour through missed turns and incidences of sign tampering by locals.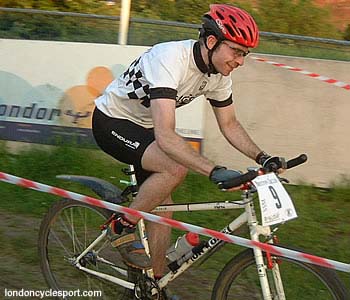 It didn't rain on the day. In fact, from about two o'clock onwards, the sun lit up the countryside and it was a lot easier to appreciate some of the magnificent scenery. Great swathes of bluebells lined the bridleways through the forested sections, and the lush verdancy of the undulating terrain helped to soothe the escalating discomfort of a day's offroading on rigid forks.
But, oh, the mud! "Float, float, float," was the mantra that rattled through my head as the bike careered through patches of rim-deep gloop, hub-deep puddles with lashings of horse piss, and camouflaged cow pats that only made themselves known when grabbing a hasty drink from my encrusted water bottle. The fixed gear set-up seemed perfect most of the time. The direct feedback from the rear wheel and all the other well-worn truisms of single-sprocketeers proved invaluable in keeping me upright, and although I walked a few of the granny-ring climbs, anyone else I happened to be riding with at the time did the same, even with their grannies on board. Amazingly, I only grounded a crank once during the entire race, on a section of deeply rutted double-track. It was a flat section and the bike followed through without any real complaint.
At times, fixed gear or no, the mud became completely impossible. The bike, suddenly doubled in weight, would grind to a halt, leaving no option other than to stagger through shoe-sucking quagmires, knee-deep into Buckinghamshire's patented mix of cold water, mud, clay, chalk and assorted animal by-products. I began to envy the lofty position of the horse-riders who were out in force on the bridleways.
There was a lot of out-of-the-saddle climbing. So much so, in fact, that my left bicep developed cramp when I stopped at the half-way point. Indeed, as I sit here writing, I find that my dodgy ankle is fine, but my arms, back, shoulders and stomach muscles are all sharing the same dull ache that is making itself known in my gluteus maximus. This contrasts interestingly with the sharper pain where I was nearly gorged by a truncated tree branch. Hey, it's all part of the fun, isn't it?
At the feeding station, we were treated to a bottle of water, a banana , and a Torq bar - although I blagged an extra bar for the tube ride home. As far as energy bars go, they're far more appetising than most, but I must say I'm starting to feel guilty about the number of them I've received as freebies at various events. Still, I've just given them some free advertising, so I guess we'll call it quits.
Well, I finished in nine hours. According to my computer, I spent seven and a half of those hours on the bike. I certainly wasn't alone in my stops for punctures and orientation. The fastest rider of the day got round in seven, the slowest in 10. I was about average, and therefore more than pleased with my performance. To be honest, I was pleased to finish at all. There were a couple of grim moments, most notably the time when I punctured twice in five minutes of each other, but perseverance and sporadic camaraderie got me to the end.
Next Sunday I'll be doing the 'Hell Of The North Downs Enduro' with my friend Darren. It'll be his first major off-road excursion, so I've decided to ride it in singlespeed mode at his pace. That isn't to say I've had my fill of fixed gear epics. If anything, my appetite has just been whetted. Judging by the unceasing precipitation, next week's event is going to be truly hellish--but the organisers have thrown in a free pasta lunch at the finish. Mmmm, free food! It's all the motivation I need.
I just hope there's a vegetarian option, or I'll be giving them more hell than they can shake a stick at.