Fit Your Own Disk Brake
by Simon Robins
Not counting my childhood experiences, I've been riding bikes for about ten years. I started on a second-hand MTB, and over the years I've tried various MTBs and road bikes, geared and singlespeed, rigid and suspension.
As a natural progression, and for a bit of variety, I figured a fixie was the next bike to get.
So I started keeping my eyes open for a cheap fixie. I found an old Joe Waugh on eBay for £120. I bought it.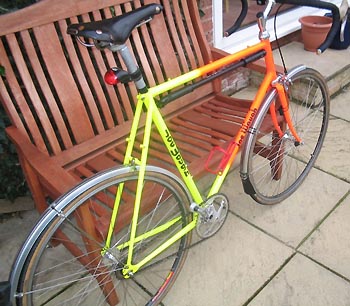 I rode it. Lots. I really enjoyed riding it.
The bike was good, but as always I thought it could be better. I started playing about with different stems and so on. I realised that the back brake didn't do much compared to what I could do with my legs. (I think fixies look cooler with only one brake. In fact I think they look even cooler with no brakes at all, but there are too many idiot drivers around here for me to even consider that.) So the back brake came off.
It was still a nice bike, and it suited me a bit better than the original setup. I was still enjoying it. Lots. But a few things were bugging me. I didn't like the look of the surplus cable guides. Quite a few parts had seen better days. And most of all the front brake just didn't work very well, especially in the wet.
So I decided to make it into a bike to really suit me.
I started buying new or second-hand parts as and when I could afford them or they became available. A NOS Dura-Ace seat post, and a second-hand but still very shiny Dura-Ace track chainset. A bargain pair of second-hand 3ttt WB1 bars. A second-hand Ti stem. You know what it's like.
The big issue left for me to sort out was the wheels, and the brake. A bit of internet surfing confirmed that the best rear hub available for not quite silly money was a Surly. (Choice was limited as the frame is spaced for a 120mm, and I wanted cartridge bearings). This was duly built onto a Mavic Open-Pro rim by my LBS.
The fork didn't have canti mounts. I thought about getting either canti mounts or a disk mount welded onto the fork, but it looked very spindly, and I wasn't sure if it would be able to cope with the job. A bit more internet surfing and I found a 1" steerer fork, disk only.
At this point I decided that a disk brake was the obvious answer. Hydraulic discs on drop bars are a problem I've seen photos of Hope brakes modified to work with drop bars, but they don't look right, and I guess that they're very expensive. Avid mechanical disk brakes are good, and reasonably priced (I use them on my MTB). Avid make a road version of their mechanical disk, designed to work with road brake levers that pull less cable than V brake levers, but I already had a spare Avid MTB calliper and disk. So when I saw a pair of Dia-Compe 287V levers advertised I bought them. The Dia-Compe 287V is designed to pull the right amount of cable for V or disk brakes.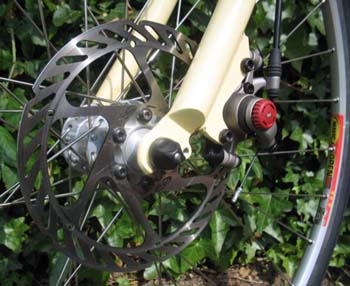 Next came the front wheel. I really wanted a Surly disk hub to match the rear, but I couldn't locate one in the UK, so in the end I went for a Hope. A reliable, reasonably priced hub, which was built onto a second Mavic Open Pro rim. The mechanic tried to persuade me that I needed a 36 spoke wheel (I'm quite tall, and not exactly skinny), but I went for a 32 to match the rear. I wanted this bike to look right, OK?
The frame went off to Mercian Cycles to have the spare cable guides and rack mounts removed, and for a re-spray. The fork went with it.
When it came back, it was just a matter of bolting it all together: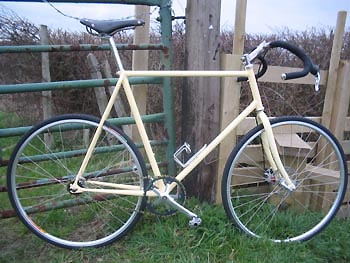 The result is a bike that I love to ride, and love to look at. The front brake works superbly. The modulation allows me to brake as much as I want or need to, without locking the wheel up. The fork is longer than the original, which has altered the handling of the bike. It's not as sharp, but is more stable. Not better or worse, just different.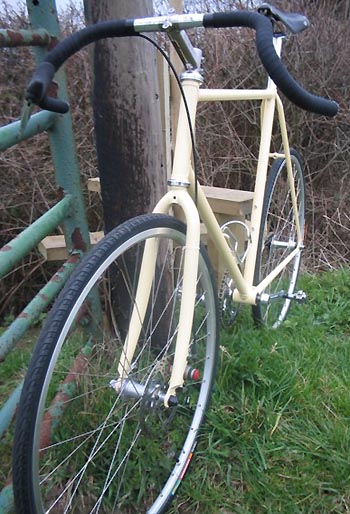 This bike isn't for off-road. It could be, with a change of tyres and lower gearing, but then it'd get dirty. Maybe when I've put a few more miles on it.
My next project will be a fixed gear Inbred. That will be for off-road, and it will definitely have a disk on the front.