Jon Wyatt interviewed
by Steve Riley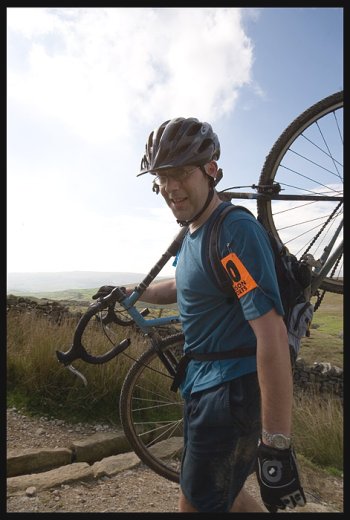 Before...
63xc.com: Tell us a little about yourself.
JW: Errm, late 30's, married with child, bespectacled and balding. I ride two or three times a week normally, but tend to stick to my own patch, it's rare for me to drive anywhere to ride. I must have tried most cycling options, from dirt jumping to unicycling, but as I enter my middle years I'm tending more to long rides on comfortable bikes.
63xc.com: You've been riding singlespeed mountain bikes for a long time, was going fixed a natural progression?
JW: Absolutely. Riding with one gear was already second nature. A big part of singlespeeding is being able to ride stuff that most people need gears for. If you've overcome that challenge, it seems entirely feasible to try something that makes it that little bit more difficult.
63xc.com: On or off road?
JW: Offroad every time.
63xc.com: Can you describe your very first fixed off road ride?
JW: It seemed perfectly normal at first, I'd ridden track bikes at the velodrome before, so I knew what fixed felt like. Then the first downhill came and the ride turned from a nice easy jaunt into a ball-breaking terror journey.
I'd also made the mistake of letting some friends know I was out for my first fixed ride so they were waiting for me at the top of the biggest climb and could be heard jeering as I desperately tried (and failed) to negotiate a proper rocky climb without the benefit of a freewheel. After that, the ride seemed to blur into a series of comical wobbly descents, heartbreaking ascents and leg-blurringly fast road sections. I had the time of my life and was sold for ever.
63xc.com: You've broken a few things, what's your favourite 'mechanical'?
JW: That'd be the time I saw a couple of lads climbing up a steep technical section on their mountain bikes. I shot after them, passed them on the steepest bit and carried on for the top of the hill, riding for my life. About half way up I heard this massive crack and then my crank fell off. It had snapped where it bolts onto the bottom bracket. I picked up the crank, shouldered the bike and ran to the top. Which left me with a 12 mile, one pedalled ride back home, offroad, over lots of hills. That was fun! Surprisingly fast once I got going but not so pleasant on the arse.
63xc.com: So why the Three Peaks?
JW: I'd already decided that I had to do a cyclocross race this year and was waiting for the season to start to pick one. Then someone pointed out the Three Peaks, so I entered that. It was only after I'd paid up that I decided to see what the course was like. Have you seen it? It's got these paths that go up cliff faces and all the contour lines touch each other on the map! All the pictures from past events show really knackered people carrying their bikes or riding across tussocky moorland.
63xc.com: How have you prepared for the race?
JW: Plenty of riding around the hardest tracks I can find locally, and shouldering the bike at every opportunity, running when I feel like it. It's really hard work moving from carrying to riding and then back to carrying again, especially for someone like me whose only long-term exercise for the last 20 years has been cycling. I find running painful, alien and just wrong.
63xc.com: Have you decided what gear you'll be running?
JW: Whatever is already on the bike, which is 38:16. I started thinking that maybe I should change to something easier, but then I'll just find myself spinning away on the road. Best to stick with what I know.
63xc.com: We checked with John Rawnsley (Three Peaks organiser) and a couple of other people. As far as we know it probably hasn't been done fixed before. Is that important to you?
JW: I actually thought it had. It's no biggie; it would be nice to find someone else on the day running fixed. We could have our own little race, because I sure as hell won't be making any challenges for the top ten.
63xc.com: Finally, are you looking forward to it or are you crapping yourself?
JW: A bit of both really. I'm confident I can finish, but the real worry is that I don't do reasonably well. I feel like I've got a bit of a point to prove, since so many people have told me it's a stupid idea doing something this hard on a fixed bike. I'm quite looking forward to crossing the line in a good position and making a few people re-assess the viability of fixed bikes for all types of riding. We'll see though, just finishing will be an achievement.
...and after
63xc.com: Did you make it?
JW: Yes thanks, just about.
63xc.com: So how was it?
JW: Insanely difficult. The first climb was like something out of Lord of the Rings. Long, long drag up a sketchy, slippery crazily-steep path, followed by a half-blind fumble through the clouds across a bleak, rocky moorland. And then it got really hard. The descents were so much fun though, marred only by so many people carrying their bikes over what I'd consider fairly ride-able ground.
63xc.com: Where did you come?
JW: 230th out of 400 starters, 129th out of 167 in my category (male seniors). About 60 failed to finish, either through injury or mechanicals, or by not making the final cut-off time for the final climb.
63xc.com: Were you racing or aiming to get round?
JW: I had no delusions about being fast, I just wanted to finish. It was a very emotional moment at the end though. I held my hands over my head and rode through the finish line, as if I'd won.
63xc.com: Hindsight -- fixed: good or bad?
JW: Excellent for riding and carrying a bike around the moors. It ran like a dream the whole way round. I must have passed 30 or 40 guys who were stood by the path trying to extract their chains from their wheels. They did, of course, shoot past me on the next road section if they ever got them going again. I think most of the race was won on the huge climbs, and everyone was carrying then. Near the end, it was starting to get very hard to turn that gear, could have done with gears then but when I do it next year, I'll take the fixed bike again.
63xc.com: Superb effort. Did you get many funny looks?
JW: Thanks. Not many. Genuine friendly interest off a few aficionados. Plenty of good-humoured ribbing from other people who noticed. A couple of guys seemed a bit bitter when they spoke to me. Quite odd really, they seemed to think this was no place for a fixed wheel bike. I hope I beat them.
63xc.com: Anything you'd like to add?
JW: I rode a fixed wheel bike around what is generally considered to be the hardest cyclocross course in Britain, if not the world. I didn't come last and my knees don't hurt.
63xc.com: I think that says it all.