A Warp in the Weft
by Steve Riley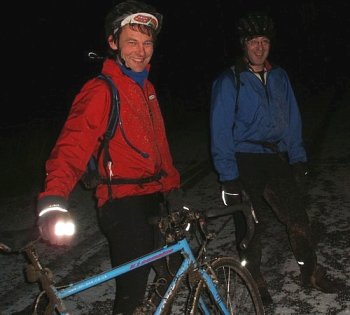 Built trail centres: love em or hate em? A lot of people grumble about them. A traditional day ride, they say, is a Sunday lunch with all the trimmings -- OS maps, ill-marked bridleways, gates, stiles, mud, getting lost. By contrast, riding a ready-made is a fast food meal.
On the other hand, the ready-made offers the promise of a big cup of tea and some home baked cakes from the Trail centre at the end. Is this a dumbing down of the mountainbiking experience?
We wanted to see how dumb could it get.
So it was that we found ourselves shivering by the roadside at the Coed Llandegla Trail Centre, somewhere above Wrexham. We were three middle-aged blokes struggling to add meaning to our lives by riding inappropriate bicycles, at night, in the snow. Our bikes were two Pompinos and a Surly CrossCheck, fixed at various numbers between 53" and a frankly ludicrous 63". (63"? XC? Absurd.)
Jaffa cakes provided distraction, if not motivation. We stamped our feet, as if we'd suddenly warm up, and set off.
We rode past the now-deserted car park, feeling slightly guilty as we avoided the stares of the centre staff, who were now closing up for the night. Then we rounded the first hairpin and started up the deadly-dull climb that begins the trail.
The terrain really was entirely without redeeming features, and I really wasn't enjoying myself. Not wanting to give my companions any opprotunity to expose their unkind sides, I didn't ask if they felt the same. But I'm willing to bet that the only pleasure they were taking was in grinding me down with their superior fitness and effortless pace. Still, if it made their job any easier, I was glad to help out.
On we climbed. Wide doubletrack, some trees to the left, some trees to the right. Nothing to see. Moonlight through the trees, reflecting off the snow, made it entirely possible to ride stretches without lights. When the climb had finally done its worst, we were pathetically enthusiastic about our first bit of tawdry singletrack.
We'd all done a bit of off-roading, a good bit of it without freewheels, so we knew what to do. Let the bike roll, don't panic, careful use of legs and brakes to control speed. Above all, keep pedalling. Not that there's much chance to stop, of course. The bike knows where it's going and exactly how it's going to get there. The fixed experience sometimes resembles a turn on a roller-coaster. Not much room for personal expression, more a matter of calling up learned responses, trusting the outcome, and enjoying the ride.
Llandegla has its share of of jumps, berms, ramps, twisty bits and other shenanigans, designed to entertain the clientele. To us, they felt oddly perverse. Rather than springing off roots and trying to clear the tabletops, we concentrated on keeping our skinny tyres in contact with the ground.
It was still fun of course. A lot of fun at times, feeling more like an adventure when the outcome was a touch less predictable.
At one point we stopped for a breather and to regroup. We switched off the lights to drink in the crisp air. We might have been miles away from anywhere. Rich compared the deep silence to that of an alpine bivvy. I'd swear we all shared the same thoughts, comparing our 30- and 40-something kicks with those of our wild youth. But I'm speculating. They were probably just a bit tired.
It was all pretty rideable in the end, except maybe some of the very steepest climbs. Even they might have worked out a bit better with a lower gear and more determination to work the bike at sub-30RPM cadences.
It should probably be noted that the operators, Tillhill, have added a couple more stretches of 'Black Run' since our outing. Someone else can report back on those. The whole loop took something less than an hour and a half, around 13 miles in total. I think we managed to avoid the worst of the pre-packaged built trail experience and had some fun along the way.
Of course, the café wasn't even open.