In Praise of Swiss Army Bikes
by Stefan Schäfter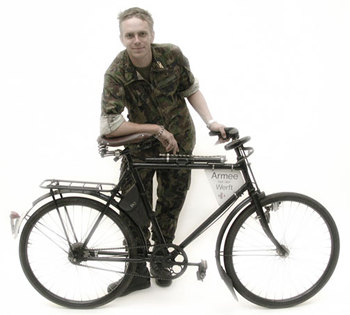 From 1985 to 1996, I rode my Swiss Army bike, or 'Militarvelo', exclusively. I still have it. Even now, when I ride and sell a whole lot of different bikes, I think of it as my one and only. It is simple, with one riding position and a single gear. It is extremly rigid. And it is incredibly, wonderfully heavy. It weighs about 23kg--more than 50lb.
Of course, if you're going to ride a bicycle designed a century ago, you're going to hit some problems. The worst of them is the poor availability of spares. Authentic tyres, for instance. The original Militarvelo tyres were produced by a company called Maloya using a bead system dating back to the end of the 19th century. They stopped production years ago. You can buy a Chinese Maloya clone, but the rubber feels like cheap plastic. Other problems: the bottom bracket tends to wear out after years of low-rev grinds up hills. The rims taco unless you keep the spoke tension just so. The original leather saddle needs careful greasing. You quickly learn to look after your Militarvelo!
Despite or because of this, the Swiss Army bike has become an icon for we Swiss. That's partly because of the tradition of national service. All Swiss men have to serve in the army for many years: an induction course (Rekrutenschule) over several months, then yearly camps (Wiederholungskurs). Some of these militiamen will go on to serve as bicycle-soldiers (Velofahrer). They get issued their own Militarvelo, with the right to ride when they're not on duty. When they retire, they can buy the bike cheap. So throughout the last century, every Swiss city had a few serving and former Velofahrer riding their Militarvelos.
In the last few years, this picture has changed. About ten years ago the Swiss army introduced a new bicycle. The new bike is almost as heavy and rigid as its predecessor, but it uses modern parts and gearing. With the introduction of the new bike, the army retired the older versions. As old Militarvelos flooded the market, the price dropped from $1,000 to $100--200. Many of these examples, kept in perfect order by the military, were snapped up by dealers for the international market. The rest went to private buyers in Switzerland, so that now you see Militarvelo riders who aren't soldiers--even a few women!
The big problem for Militarvelo fans is the number of fakes on the market. Several companies build lookalikes. The best way to spot the good ones is to look for the year of production and a Swiss cross stamped into the seatpost lug. Most of the bikes coming up for sale now will be dated 1950--1970. If you find a pre-war datestamp, be suspicious! Check the brake setup: a post-war Militarvelo has three brakes: a front caliper, a rear coaster, and an additional cable-operated drumbrake on the rear left side. Some more things to watch. The rear drop outs are straight and very strong with extra space for the drum brake. The seat-stays are detachable. The frame tubes are oversized. The spokes and front hub are nickel plated. The saddle is numbered and stamped with a Swiss cross. The pedals are huge, black affairs with big treads. Take care--prices outside Switzerland are high, and it's easy to get ripped off.
When I first became a messenger in 1989, the Militarvelo was my working machine. Years later, when I got an MTB with slicks, it frightened me. Surely something this light couldn't be safe? The Militarvelo needs a push to get it started, but, once you're up and running, it rides very calm and stately. It corners excellently. And it is the best bicycle for riding in the rain, because the front mudgard has an extra long rubber plate that goes right down to the road. (Those Maloya tyres aren't much good in the wet, so watch out.)
It is always good to watch a Militarvelo rider, but it's even better to ride one for yourself. Perhaps we worry too much about weight? I've never met a private Militarvelo rider who wanted to sell. I will certainly be keeping mine.