Moots Fix
by Tomas Drew-Bear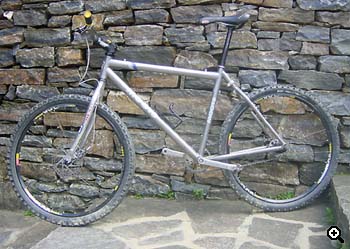 I am writing from Caracas, Venezuela. I would like to send you a writeup of my fixed Moots YBB. I was able to set it up fixed using the resources of your page and a lot of luck... I am running a challenging low 36/26 with vertical dropouts, using a normal 8spd KMC chain.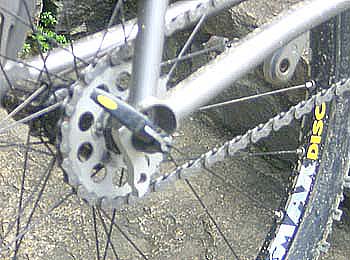 Spec Sheet
Moots YBB, vertical dropouts Monty disk-specific trial fork FSA headset Salsa Motoace stem Moots riser bar Deore hidro front brake Mavic original Crossmax disk wheelset Thompson post IRC Notos rear Bonti front Old school Deore 170mm crankset, original BB Bonti pedals Onza ring, steel 36t Aluminum 26 rear sprocket drilled to fit disk holes KMC 8spd chain


Writer
Tomas Drew-Bear is a biker from Caracas, Venezuela.
Date
v1.0 written June 2004
Related
Learn more about Moots from their website...
...and check Jason's classic How To on converting disk hubs for fixed gear use.
Mailing list
Join the 63xc.com list.