YB fixed?
by Tomas Drew-Bear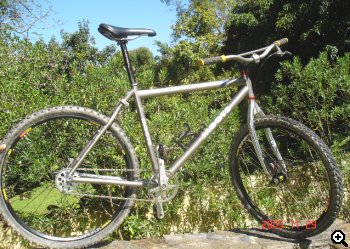 This is a review of my homemade offroad fix, based on a 2002 Moots YBB frame. I'll start off by pointing that this is not my only bike and that I don't ride exclusively fixed. That said, my fixed YBB has proved quiet, efficient and fun, and we've had some pleasurable rides together.
I believe that a softtail frame makes a good fix. Fixers spend more time in the saddle than gearie riders, and boy! that little spring sure helps make the ride more enjoyable. And it doesn't add all the complexities of real suspension. It's lightweight, simple and good-looking. What more could you ask for?
As you can see from the photo, the YBB has neither horizontal dropouts nor an eccentric BB, so I have to rely on my magic gear setup to maintain chain tension. Fortunately, the Moots has chainstays around 16.75" or so long, a magic number which seems to give good results with singlespeed-y 2:1 setups. As long as I check the tension regularly and keep that the chaindrive is nice and clean, everything is fine. However, setups like this are a bad idea if you if you ride in very rough terrain. Losing the chain in a rock garden might damage you, as well as the bike. I recently re-learned this lesson the hard way when I took a bumpy downhill a little too hot. I paid dearly with mangled components and a sudden back wheel skid that could have been really dangerous...
I finished off the build with some parts I had lying around, including the Deore hydro disks which you can see in the picture. They've been a pleasure to use, even under constant braking during descents, and I recommend them highly -- tho' I think it's a good idea to upgrade to a Hayes rotor. The wheels are XC-style original Mavic Crossmaxes. I converted the rear a la Millington with an old school aluminium cog drilled and bolted onto the disk mountings. A really strange side effect of going fixed: the cassette body on the other side of the wheel completely froze! So I guess this wheel will be staying fixed... I use a worn-out IRC Notos tire in the rear and a Bontrager in the front. A complete listing of the other components is included with the pictures.
So, how does the Moots ride? It rides in a heavenly fashion, thank you very much. As you can tell, my choice of gearing is not very commuter-friendly. I must look pretty silly when I ride to the trail head with my legs going round like eggbeaters. All of that changes as we hit the dirt. The easy gearing and 170mm Deore old school crank really shine on my local terrain. The bike just levitates up the long climbs, and the rear wheel sticks like glue to the slipperiest of grades. The trials-oriented rigid fork is not suspension corrected, which means that the frame's geometry is a little on the quick side -- but that's OK. It adds responsiveness on the climbs, and I'm not looking to break any records on the way down. Woody sections are very challenging, but then I'm still developing the skills and the attitude needed to fix in technical terrain. The more I ride this bike, the better I can handle rocks, logs, and steep descents. Worn out tires are a lot of fun in mud!
The bottom line is that almost any bike can become a fix. With the increasing popularity of singlespeed type frames, you owe it to yourself to try a little fixed action on your next offroad journey. You will learn a new set of skills, enjoy a quiet and efficient alternative to the technological assault of modern-day mountain biking, and above all it's just a hell of a lot of fun. Who knows, you might surprise yourself and others with your new climbing skills!