My Dawes Ride
by Walter Skrzypek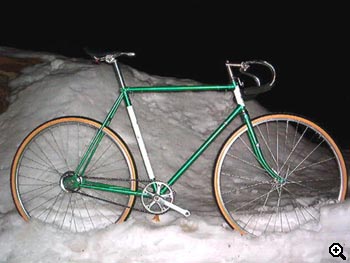 I thought I would share a taste of the off road fixie I just completed. I basically tossed it together as inexpensively as possible.
The frameset is a 1950s Dawes Red Feather Club. Very nicely lugged, and quite a cool headbadge!
The build includes: 27x 1 1/4" Weinmann rims with Chubby Knobbies. Suzue hubs. Surly 18t rear cog, I left the Suntour chrome spoke guard in place to add some character. The crankset is an old Ultegra 600 with a 42t ring. Flite saddle. Pre-war lugged type stem and pre-war handlebars as well. Ritchey True grips. I use Time ATAC pedals.
I don't have any brakes on it and I am still debating whether I need 'em... it rides so nicely, plush and pleasant! It is the perfect size for me to take up and rip laps around the local fields which are still snow covered making for some ideal corner skids. With any luck I will someday get a grass track to whip around on.