Paul Components High Flange Hub
by Will Meister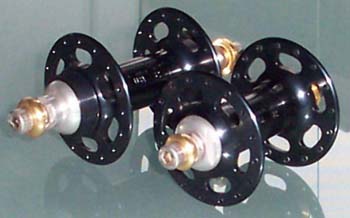 Singlespeeders have all the luck. Their niche market is large enough to reward the companies who develop good product, and some of the best components in the world are sold as add-ons for singlespeed bikes.
Fixed gear riders don't usually attract the same level of interest. By comparison with the cosy S/S world, the FG market is a tough nut to crack. It's a small, diverse group, uses many different kinds of kit, and has strong retrogrouch tendencies. ('Nothing rolls like 70s Campy, dude!') In other words, a component maker's nightmare.
So we were pleased to hear that Paul Components, makers of the fabled WORD hub, had a fixed gear set in the works. And we were delighted when they announced that the new hub would be available in three different spacings: 120mm, 130mm, and 135mm. Paul were clearly serious about fixers.
Paul contacted us to offer a hubset from the first production batch. Would we like one for review? Did Polly want a cracker? A month or two later, boxes arrived at the office. They contained a 32h 120mm rear and a QR-drilled 32h front. There were instructions with neat exploded diagrams tucked into the boxes. We didn't notice the instructions for a while, though, as we were so busy staring at the hubs.
The Paul High Flange certainly is handsome, with styling, ah, inspired by the Campagnolo Super Record. There's no real possibility of confusion, however. Paul's design has a pleasing chunkiness. The flanges flare gracefully into the body, and the metal is finished in a lustrous, glossy black--the kind that doesn't wear off for a long, long time. The shields look impenetrable, and the exploded diagrams show the bearings tucked well out of harm's way.
While the front hub has a hollow QR spindle, the rear uses a more modern allen bolt fitting. This is reckoned to give the strongest, tightest fit, because there is no risk that adjustments made on one side will be transmitted via the spindle to affect the other. While I like the system, it does seem to me that you will want to keep as much as possible of the bolts screwed into the hub body. I wouldn't want big spacers on an allen bolt hub.
The bolts are heavy steel, threaded throughout their length, and the mounting washers are thick brass affairs with deep gnurlings to grip the dropouts and machined projections to carry the bolts through the slots. The lockring is stainless steel, chunky to match the hubs and as tough as any I've seen. (In the last few weeks, Paul has announced that the mounting washers on the full production model will be of stainless steel, and that the lockring will be even thicker 'to cope with thin cogs'.)
The hubs were destined for my road bike. I wanted something fast and responsive, but able also to handle gravel tracks and the appalling local C roads. 28c seemed the way to go, giving freedom to move up to a 32 for winter and down to a 25 for city jobs. However, this choice turned out problematic.
Paul's decision to offer the High Flange only in 32h reflects mountainbike practice. Among 26" riders, the 32 spoke wheel is an accepted standard, compatible with tyres of all sizes. For 700c riders, however, a 32 spoke hub usually means a narrow rim. DRC and Sun make wider 32h light touring rims, but no-one bothers to import them to the UK. The only 32h touring rim distributed over here is the Mavic T520, a nice enough piece of kit but really suited only to expedition tyres.
It took me a while to establish all this. In the meantime I wasted a fortnight in phone calls, mailing list posts and emails to manufacturers. Eventually a kindly 63xc.com supporter in the states took pity and mailed me a shipment of 32h Sun CR-18s, but I suspect that most riders would have given up long since and bunged on the nearest Mavic. Memo to Paul: please can we have a 36h version? It would give 700c/29inch riders a wider choice of rim, and make stronger wheels for heavy duty offroading as well.
Having got hold of the rims, it was time for a build. I took all the components to J Palmer of Orpington, an old school wheelbuilder who likes fixed gear. He was very keen on the hubs--that is, when he was able to snatch them back from the hands of a passing rep--but expressed some concern that the drillings are for 13 gauge spokes. 13 gauge is pretty common in MTB land, but most 700c components, including my imported rims, are designed for the narrower 14 gauge.
Although it wouldn't have been impossible to find touring-style 13/14 single butted spokes, we settled on straight 14 gauge and a classic three cross pattern, and I left him to it. I collected the built-up wheels in time to put a hundred miles or so on them before this review went out.
I have to say that these are the best wheels I've ever had. The combination of big flanges and strong rims makes for great manoeuvrability, but lighter spokes keep the wheels compliant enough to cope with bad surfaces. (Really stiff wheels do better on velodromes than on rough roads.) A set of Schwalbe 28cs made a perfect pairing with the Sun rims, and, despite its big, springy 23 1/2" frame, the bike feels secure and reliable even in tight turns.
According to Paul's blurb, the bearings will take 400 miles to wear in fully. However, even out of the box the hubs were smooth as butter. If it really gets better as you go on, I am going to enjoy the next few hundred miles...
Verdict: Love 'em
Quality





Value