SF Cross Check
by Albert Reinhardt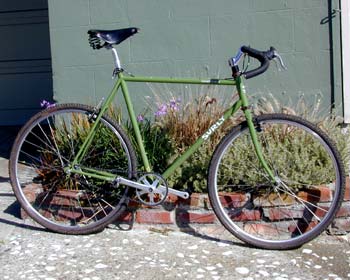 With its meaty tires, this Cross-Check feels like it's living up to its Surly name. I purchased the frame used and built it up as a XC fixie, a path racer. It's fun to weave through the singletrack of Golden Gate Park. The tires, sprung Brooks saddle and wide WTB dirt drops give the bike a balanced, stable feel.
I also use it as my round town bike. 42x17 gearing is the right combo for the ups and downs of San Francisco. I even gave it a temporary makeover this fall as a gentlemen's cruiser, complete with fenders, north road bars and basket. With the winter weather clearing up and the park drying out though I switched back to the original configuration.
This is my newest bike by a couple years, but easily my favorite. I love the ride and the feeling I get in finally clearing a tricky section of trail without clipping a pedal.
Buildup
2001 Surly Cross-check 60cm WTB Dirt Drops generic stem Shimano BB 105 front hub laced 32x to MA-3 rim Suzue 32h flip flip rear hub laced to Open Pro rim 17t generic rear cog Sugino75 170 crank w/ 42 generic ring Wellgo clipless pedals Campagnolo aero seatpost Brooks Conquest saddle lx cantilever brakes DiaCompe aero levers Continental Town & Country 700x35 tires