Bianchi DISS
by Kevin Calzia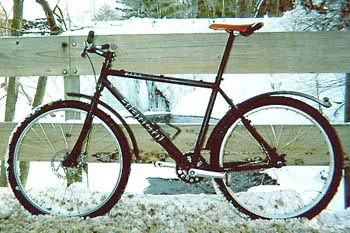 My fixed gear Bianchi DISS fills a unique spot in the quiver of bikes I have built over the years.
It was originally built to be the ultimate low maintenance commuter bike. My old Bridgestone commuter was starting to rust through from all the salty road spray encountered during the winter here in western Massachusetts. I was also getting tired of replacing brake pads every couple of months as the winter conditions are not too nice to them either.
So, when my original, orange Bianchi BASS died from a failed headtube-downtube weld and the nice people at Bianchi and Harris Cyclery set me up with a brand new DISS frame, I figured it was a good time to build myself a fixed gear bike. The aluminum frame would take care of the rusting problem and with a fixed gear there would be no brake pads to replace. I clipped on some fenders and had a perfect commuter.
Then I read some articles on 63xc.com and started thinking. I had already ridden a singlespeed offroad for several years. Riding a fixed offroad seemed like a logical progression. I decided on a front disk brake to help with the steeper downhills I would encounter. I chose an Avid mechanical unit, which still met the low maintenance requirement for year-round commuting.
I use this bike daily for going to school and getting around town. It is great fun to wind up the cranks on a long downhill section after a couple of beers downtown. It is even more fun though to ride the twisty singletrack found in the hills of the Pioneer Valley.
I take it along every trail I take my more normal bikes. Rocks and roots are common here, so pedal stroke timing is important. There are wooden plank bridges and rock ledges along some of the trails, so knowing how to trials hop and how to lock the rear wheel up with the pedals is also helpful. My favorite part is entering a tight corner at high speed and easing up on the pedals to slow down enough to make the turn. It is a similar feeling to digging into a wave on a surfboard or carving a bit harder into a hillside on a skateboard. Offroad fixing is a lot of fun and it makes the trails a little different. I think anyone who enjoys bikes should try it out and then they will understand.
Bike Specs:
Bianchi DISS 19inch frame Bianchi steel fork Sugino XD600 cranks (170mm) Shimano UN52 bb Shimano 737 pedals AC 42t DH chainring SRAM PC58 chain EAI 19t track cog Dura Ace lockring Surly fixed/free rear hub Mavic 221 rear rim Shimano XT disk front hub Mavic 231 front rim IRC Mythos XC semi-slick tires Avid Mechanical disk brake Avid SD-7 brake lever Cane Creek S2 headset Ritchey Comp stem Surly Torsion bar CODA grips Control Tech seatpost SDG Ventura seat Kore wheel tensioner Club Roost fenders