Why I fixed my ride to work
by Chuck Cypert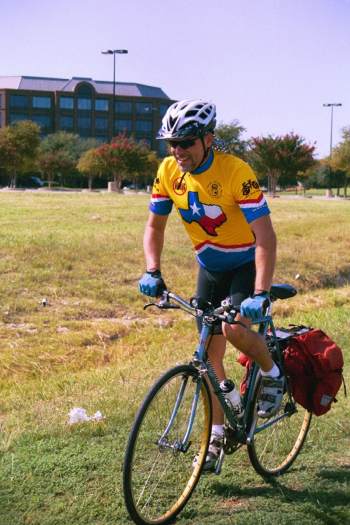 I have been riding my bicycle to work since I was a dumbass teenager out in Hale County, Texas, back in the early 70s. My commuter bike got a lot nicer over the last 30 years or so but I still dig not being a slave to the automobile. It's a big deal with me, in an "off and on" sort of way. There have been months of Marlboros that kept me off the bike except on drunken Saturday afternoons when I wanted to roam.
I moved to Dallas in 1978 and I did not own a car for the next four years. I did buy an old broken down pickup at one point but it was such a POS that I was scared to drive it more than a mile or so. I rode from the east side of White Rock Lake almost to downtown Dallas every day, a voyage of a solid ten miles each way. Through hookers and drug houses and a lot of rude drivers, twice a day. For years. Looking back I cannot imagine how I have lived to such a ripe old age.
I have a lot of bikes, way more than a sane man needs. Old Brit and American lugged steel, various odd mountain bikes from various odd notables over the last couple of decades. A goofy-fun chrome cruiser. The list is basically dynamic and I am probably going to have to prune a few branches at some point. But I am here now to describe my current daily steed, the beast of burden that carries me twenty miles a day from Garland through Richardson and over to Dallas. In all weather and ozone conditions. In some ways my favorite bike, but then I love 'em all. I have another nice commie bike but I quit using it when I started riding the fixie. The previous bike has a long history and many lives since I acquired it, but I hung it up after one day on my fixed gear. I don't mean one day on the bike, I mean after riding it to work one day. My route is pretty flat, a 40x16 is very pleasant, and I know what all those fixed gear freaks mean when the try to explain that riding fixed is like nothing else in the cycling world. But then neither is hard core down hill or any other aspect, it's all different. I can go on for an hour about why but y'all want to know about the machine.
The bike is a 1970 Schwinn Paramount custom, from "back in The Day" Chicago and all that. I asked the people in Waterford to try to research it but the records are not extant. That was 35 years ago, people have come and gone and the company moved to Wisconsin and then Schwinn became swine. Again, I digress. The bike is painted a medium metallic blue and has a steel tubing rear rack brazed on, as well as cantilever brake bosses, no decals or chrome, only the Paramount head badge. The brakes appear to be an add-on afterthought but the rest looks original. Two bottle mounts on top of the down tube, that's still weird to me. Somebody built this thing to be their own, I would bet you money. Prugnat lugs and BB shell, a really beautiful bike. I got it off eBay and the story the seller gave me did not provide a lot of detail as to lineage but it is a real Paramount, s/n G7016. August 1970, #16. I ride the hell out of this thing too, you better believe me there. I ride it to work every day with loaded panniers and it just sails along. The Campagnolo rear drops are long and offer lots of purchase for the flip-flop rear hub, but the fixed side is all that ever gets used. I've ridden the freewheel, like around a campground or something it is OK, but this bike was born to be fixed. I have old XT canti brakes and a Campy front hub, HS and BB. Brooks saddle, of course, riser bars and old Kirtland TourPak panniers. I built the 27" wheels up from some gold rims I got, again, off eBay. World's biggest garage sale, I am a regular user.
It goes straight, it stops like velcro, and yes I do use both front and rear brakes. Call me lazy but I back pedal sometimes, too, that's the beauty of riding fixed. You can control the bike with just your legs, if you are careful, and you can do a lot more if you are skilled. No-hands track stands and all that rot, but not me. I can't even do a wheelie on my cruiser. No, I just sit there and try to keep up with the pedals, it's really fun in an interesting way somehow. I love it. Of course I nearly died once from crashing on a fixed gear bike. But that would be my other metallic blue Schwinn Paramount. I put gears back on it and it is much nicer to ride, and safer. The first time you forget and try to coast, or approach a curb thinking that you are gonna level the pedals and pop the front wheel, you get that little reminder. A near death experience. Your legs cannot stop pedaling, for any reason, unless you track skid. Tough, on a bike with panniers. You have to spin smooth and relax. Mild climbs let you stand and deliver, rocking the bike to the sides in a perfect 360-degree cycle that would make Lance Armstrong proud. Man, I love it, you really feel connected to every bit of the cycling experience. Just try to keep it below 120 rpms or so unless you are an expert. I suspect that you people already either appreciate riding fixed or you think it is insane. I think it is sort of like flying in airliners: hours of pure boredom punctuated by moments of sheer terror.
Now don't get me wrong, I have a nice car these days, the Silver Slug, and I still use it to go camping. I love to haul my bike and my cot and just roam and live out of the fiberglass shell on the back of my truck for a week or so, that is my sabbatical. But I ride my bike to work as often as I can. It matters to me. I am not a slave to petroleum fuel, though I do still use some. I'm down to a tank or so a month unless there is serious highway travel involved. I save some cash but I do it because I love the ride. My whole life is molded around cycling in a lot of ways, and still being able and stout at my age of nearly 50 really makes me appreciate history and weird little anachronisms like fixed gear cycling. I wanna ride with Orville and Wilbur Wright, or Mark Twain. I think I could pull it off.