Congestion Relief
by Scarlett Parker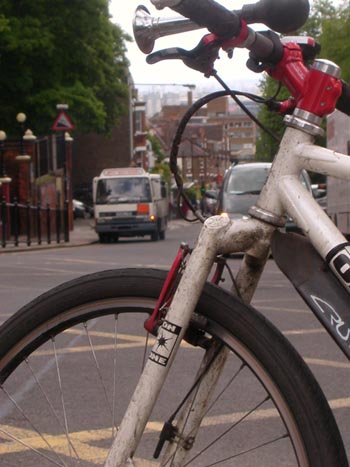 I have now enjoyed a year of commuting on a fixed, rigid-forked, slick-tyred mountainbike.
That's right. Not 'endured', but 'enjoyed'.
It's rare for me to find myself on public transport these days, but a recent bus-borne restaurant trip with my wife gave me a chance to weigh up the pros and cons of commuting by bike. That journey made me realise that my switch is permanent. Downpours, sweaty wet weather gear, headwinds, near misses, belligerent pedestrians, broken glass, the inexorable redness of the next set of lights... none of it can ever outweigh the frustration I feel when I find myself trapped passively in a traffic jam or a tube tunnel stoppage.
The fact that I ride fixed helps keep the scales tipped in the favour of cycle commuting. The mechanical simplicity of my fix is attractive in itself, of course, but there's also the enhanced feedback from the rear wheel during downpours; the flywheel effect that reanimates the cranks-vertical deadspot, so cruelly punished by headwinds; the oft-cited zen of perpetual pedalling which sharpens your powers of anticipation against automotive close shaves and the mass exhumation of the rushhour undead from their air-conditioned graves. There's even the red lights, transformed by the magic of the fixed drivetrain into an opportunity for trackstand practice.
I was already commuting on fix before starting on my current Central to North London route, but it was never anything substantial--just a five minute dash to and fro, barely enough to get warmed up. My present route from Old Street to Highgate isn't exactly a marathon, but those five miles take in fast stop-start stretches in bus lanes, optional forays down potholed rat-runs, and a brutish climb or descent, depending on your orientation. ATagging on a few extra climbs is easy, too. In fact, that's exactly how I prepared myself for the competitive hillclimb season last year.
Of course I'm not alone in my capacity as a fixed London commuter. Internet forums catering for this niche are well subscribed, and a lot of couriers are at it too, which is testament to the fix's suitability for city streets. I wouldn't condone the road etiquette of all of my fellow fixers. Then again, couriers, fixed or otherwise, aren't the only group who sometimes take a selfish approach to traversing the capital.
So what's my point? Well, rest assured I'm not on some kind of evangelical mission. Urban commuting on a fix is definitely not for everybody. I just wanted to share with you the fact that I'm fitter and happier because of my ride, and that my job has been made more bearable by the perception of my journey as a fixed funride or snatched training opportunity. Time's ticking and I've got to make the most of it. Come September I'll be back to three hundred seconds of spinning, this time on the flat terrain between Old Street and University College London, a state of affairs that's set to last for four years.
Who but a cyclist would wish for a longer commute?
BTW, in case you're wondering--it's an On-One Inbred with a Goldtec hub and Hubjub-sourced EAI sprockets, 38x14 in the summer and 38x15 in the winter. And if you're confused as to what all this has to do with off-roading, you probably haven't had the chance to ride some of London's neglected backstreets.