How We Built The Gaansari Scorcher
by Gary J. Boulanger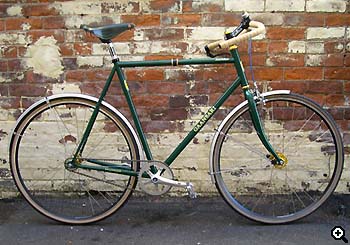 Thirty-six inches to my left, about five feet off the ground, resides one of the most famous photographs ever taken. It shows Orville Wright commanding the first powered flight, propellers whirring, wings no more than four feet off the ground, as brother Wilbur gazes from the right. December 17, 1903.
The framed photo above the mantelpiece in my office was a gift to myself on December 17, 2003, 100 years after the famous first flight. It was the Wright Brothers who inspired me to open Cycles Gaansari, a bike boutique in my adopted town of Dayton, Ohio, on a cold and blustery January 2, 2003. On November 20, 2002, my son Henri's 8th birthday, I had a brainstorm to design and market a line of bikes inspired by those made by Orville and Wilbur and sold in their Dayton, Ohio bike shop in the 1890s.
The Gaansari Van Cleve and St. Clair models, introduced in April 2003, were designed to be historically correct in the context of what the original Wright models represented. The Wright Van Cleve and St. Clair models were painted black with gold decals, had simple but structurally superior componentry, and were among the best the industry had to offer in those days.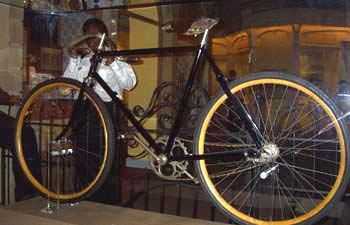 As the days flew by in 2003, it became apparent there was a need to develop a fixed gear Gaansari, a direct descendant of the Wright St. Clair ridden by Orville himself, the one which earned him his nickname 'the Dayton Scorcher'. I read as much as I could about the Wright bikes and Orville's passion for racing, and then got my hands on Jim McGurn's book 'On Your Bicycle', where, on page 98, I found this passage:
Even brakes became unfashionable on men's models after about 1894... 'scorchers' rode 'fixed-wheel' (without a freewheel mechanism) and could use back-pressure to brake.
In true bike industry fashion, I developed my own R&D (research and duplicate) methodology for the Gaansari Scorcher, building on the foundation of the Surly Steamroller: minimal design, traditional geometry, but with an eye to a bit more expandability and elegance. In short, a platform on which to build up a fixie whichever way someone (or someone's spare parts bin) decided was best. I thought of speccing Surly track dropouts and the Steamroller fork, to maintain a pleasing aesthetic while keeping the costs down.
Then, while Googling, I happened upon the fine Ibis Scorcher retrospective published by 63xc.com in August 2003. Ibis founder Scot Nicol and I first met in the high-flying' early '90s, when I contacted Scot after seeing a review in the now-defunct Road Bike Action magazine. We became fast friends, and, while Scot has since sold the company, we still sing off the same page bike theology-wise. Little did he (or I) realize how much of an impact the Ibis Scorcher would have on me and so many other cyclists 10 years later.
So, with a mix of Chuck Ibis lunacy, due diligence and research, not to mention countless hours of back and forth time on the phone and gobs of emailing with Dwan Shepard (owner and its resident bike designer/engineer of Co-Motion Cycles, whose craftsmen build all current Gaansari bike framesets) the Gaansari Scorcher took shape.
We agreed that Reynolds 725 oversized tubing would be best, and that, as on our St. Clair, an extended head tube and S-bend stays would be required. I wanted to add some of the extras the Steamroller skipped: pump peg, down tube water bottle drillings, rear brake split cable guides, and fender eyelets. We also decided to go the 1-1/8-inch threadless steerer route, and build our own steel fork. Dwan wasn't real keen on the Steamroller fork (not straight enough for his eagle eye, and lacking an eyelet), so I agreed.
We also sourced a nice, long track dropout from LongShen, a component not used by most framebuilders. However, since I wanted to announce the Gaansari Scorcher project to the world on December 17, 2003, we ended up re-importing the dropouts from Ceeway, a UK bike-building supplier.
Concurrent with the frame development came decals. Janette Day, owner of Aurora Sky Design, is our graphics wizard and webmaster. I wanted a really nice, subtle 'limited edition' seat tube decal, and she hit a home run after a few iterations. I then contracted Gary Prange, owner of Screen Specialties Shop, to make our decals. Screen Specialties provide decals for 65% of the bike industry, so I knew we were in good hands.
The Scorcher's color, Stirling Moss Green, was inspired by a 1960 Raleigh Superbe lady's three-speed, parked in our showroom. It too has simple gold decals. We've also sourced the Brooks B-17 champion saddle in Stirling Moss Green with copper rails, but the real fun began January 16, when Paul Price, owner of Paul Components, contacted me after receiving our Bike Evangelist e-mail newsletter. Seems he was following our Scorcher progress, and recommended speccing his high-flange track hubs in gold. After some back and forthing, we developed the Gaansari GoldenBoy hubset. It seemed like everything was falling into place nicely.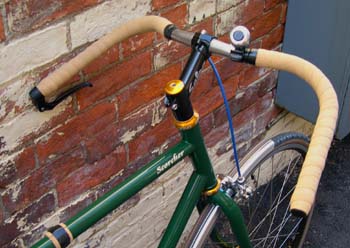 The trust I have with Dwan, Janette, Gary and Paul helped usher the Gaansari Scorcher from concept to reality in four short months. To be thorough in a project as exciting as this is paramount. It's our job to consider a whole range of 'what-ifs' in order to make sure the Scorcher can provide years of cycling satisfaction for the devout 100 who make a commitment.