Cruzer
by Jezz Harty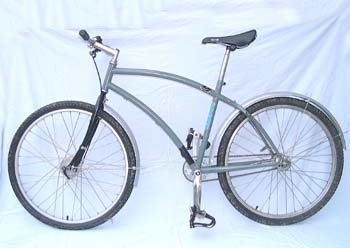 "hi will, this is jezz from the uk. both my fixed bikes go or have been ridden off road. This one's a cruzer style old school mtb that i built up with a few nice bits I came across. it's got a mavic mtb rim on a high flange track hub at the back, and a sturmey hub brake on the front. the sturmey rides great offroad."

Date
v1.0 written October 2002
Related
Jezz Harty sold the cruzer to buy a new Pompino.
Mailing list
Join the 63xc.com list.