The new Pompino fork
Jezz Harty interviewed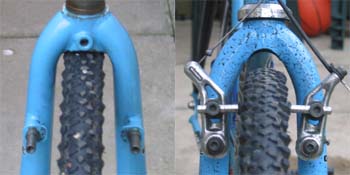 63xc.com: I believe the Pompino originally sold with quite a narrow fork?
JH: I think it was originally marketed as a general-purpose, do-anything bike, not an offroad bike. When people started using them offroad, they started asking for cyclocross clearances.
63xc.com: I remember that the rear had lots of clearance, but the fork used to be limited about 35c. How big will the new one take?
JH: I've got no idea. I just know that now I've got mud clearance.
63xc.com: So it's a basic steel fork, not carbon or anything?
JH: They do a carbon one as an upgrade, but since I'm financially embarrassed I didn't even think about it.
63xc.com: If you bought a basic Pompino now, they'd give you one of these new forks?
JH: They'd give you the new fork. For an old bike, it's an upgrade. It's worth having it done. The pictures illustrate how much extra room I've got.
63xc.com: It looks like a nice design for strength. How is it for ride?
JH: It's more compliant.
63xc.com: Is there any rake on it, or is it straight blade?
JH: I'll just get it out the cupboard. [PAUSE] There's a slight curve on it. It's pretty much a wider version of the old fork, but it's definitely worth having if you've got an old Pompino and you want to ride it offroad.
63xc.com: Thanks, Jezz.