Laidback Fuji
by John Speare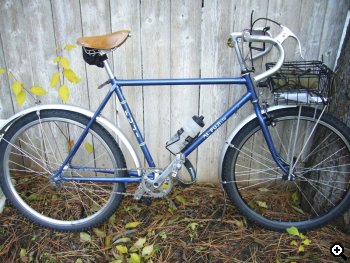 About a year ago, I found this Fuji frame at a yard sale. I'm a sucker for steel and lugs, and the 20-year-old bikeshop sticker on the seat tube was from one of my favorite shops. I didn't really need another bike, and I didn't have a plan for it, but I bought it anyway. It cost me $5.
I've tried several times to make 80s mountainbikes into useful and comfortable rides. I've installed internally-geared hubs. I've built up singlespeed wheels. I've mounted big albatross-style swept-back bars. The bikes always look pretty cool and they work for puttering around the neighborhood, but, when I ride them more than five miles, I find them uncomfortable and sluggish. They all seem to have the same geometry, with long chainstays and toptubes and crazy amounts of trail. I guess the birth of mountain bikes really was all about going downhill, just like those old Repack guys are always telling us.
But I can't get over the craftsmanship the Japanese bought to those old lugged, steel bikes. Even the lowest-quality steelpipe Shogun 10spd from the 80s is way more interesting to me than the aluminum and carbon droid bikes pouring in from Taiwan and China. I've nothing against those countries. I know they turn out lots of quality products, but today's mass-produced bikes all seem to come from the same factory, just with different paint and decals.
I'm a newbie to fixed offroading. I bought a Rivendell Quickbeam last February and rode it fixed exclusively. After a time, I migrated to the local trails and began to ride the Quickbeam more and more in the dirt. I've always approached mountain biking/trail riding as a grownup on a BMX bike... not much finesse. I blew through the original wheel on the Quickbeam pretty quickly. That made me decide that, although I wanted to get more skilled on the trails, I didn't want to kill my Quickbeam learning.
For this application, the Fuji, which had sat in my basement for the better part of a year, made perfect sense. It had horizontal dropouts, and I had a bombproof Peter White-built Surly/Mavic 729 wheel looking for a new home.
So I built the Fuji up with stuff I had in the parts bin: moustache bars, an old Ideale saddle, some mid-90's Deore cranks, super low 36x19 gearing.
I'm lucky to have a series of trails that cut across a long steep bluff about a mile from my house. I took the Fuji out there a couple times and tried to love it. I tried to ignore the pain in my hips and back, and the clunky kludgy way the bike handled. Riding those trails on my Quickbeam may not have been a fair warmup to the dramatically different riding characteristics of the Fuji. But, fair or not, I gave up pretty quickly on the Fuji.
Meanwhile, the weather was getting colder and we were seeing more autumn rain. Our three-year-old daughter, Maddie, goes to preschool two times a week. My wife and I both have bikes with a "kid solution" where Maddie rides either on a seat attached to the stem or on a seat attached to the top tube of the bike. With the change in the weather, we figured we should haul out the Burley trailer instead of putting Maddie up front to face the weather.
By this time, the Fuji was really down on its luck. Our garage had too much crud in it and one more bike just made it worse. So, the Fuji was parked outside under a blue tarp by the garage. And the Burely was tucked out of the way in the rafters of the garage. So the Fuji became the kid hauler. It had a home outside where we could hook the Burley to it and have it at the ready.
The bike is great for the short school runs and trips to the market. I put a front rack and a basket on it. It sports full fenders and drop bars. The front U-brake kind of works, but the market and the preschool are both short flat rides that don't require a lot of braking or back pedaling. I've just mounted studs on it because snow is sure to fall any day now. It's still not a bike I want to ride more than five miles, but it's a really fun way to haul Maddie to school, and it fits both my wife and me so we can both ride it. I like it. I like that it's a 20-year-old frame with recycled parts. I like that my wife likes it and that she's interested in riding fixed in the snow.