Surly Stainless Steel Chainrings
by Matt Chester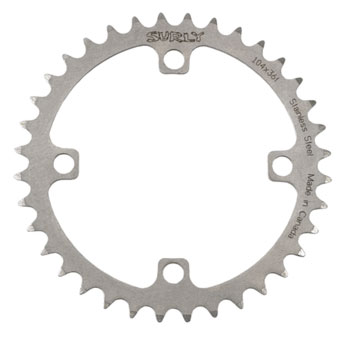 OK, I know what you're thinking. A review on a chainring? Come on. This is much like reviewing traditional seatposts or stems. What can really be said?
Plenty, actually.
These days, most chainrings are cut from some sort of aluminum alloy. It's a pretty good material choice, combining low cost and light weight, and it offers decent service life provided that you clean your chain regularly and replace it as it wears.
Those last points are key. Aluminum is a relatively soft metal. If neglected, aluminum rings can 'pit' and 'shark fin', thus compromising the chain interface. Considerations like these have produced a niche market for 'singlespeed' and 'downhill' chainrings, made specifically for single ring usage. These are made without the ramps and pins which aid shifting on conventional designs, and often feature 5mm thick centers and wide-as-possible teeth to resist wear and increase lateral stiffness. Rings of this type are available from Blackspire, FSA, RaceFace and many others.
So why would Surly go with stainless steel for their chainrings? One word: longevity.
Steel drivetrain components are nothing new, even in modern MTB applications. Granny rings in triple cranksets are often steel. Smaller cogs on rear cassettes are often steel too. Readers of this site no doubt have a steel track cog or two in the parts bin. Steel is the material of choice for smaller rings or cogs with lower levels of chainwrap, resulting in a workload that is spread across fewer teeth, and thus increased friction and wear. It has been estimated that, in such applications, the lifespan of a steel part can be as much as five times longer than that of an aluminum equivalent! Why not transfer those benefits to the somewhat larger rings on your singlespeed/fixed gear MTB?
Here's how Surly describes their rings on their website: "Why the heck would we produce chainrings when there are already so many chainrings on the market? Because stainless chainrings are tougher than aluminum chainrings. For single-speed and tandem timing chain applications, where the wear isn't shared between 2 or 3 chainrings, our rings will outlast and outperform aluminum. You can certainly use them for multi-chainring applications, but they aren't ramped or pinned, so shifting up to to our ring (used as a middle or outer ring) might be a bit slower than what you are used to. Our rings are compatible with 6-speed to 8-speed chains. 9-speed and 10-speed chains may fit tightly on our rings until they've been used for awhile."
So steel seems like the ticket, right? Absolutely. But as always, things are not that simple. Stainless steel chainrings--specifically, middle rings for triples--have appeared on the MTB market before. You might remember Onza's products. They were pretty good, and would probably still be around if the 'single speed boom' had hit earlier in the 1990s. (We won't even talk about the non-stainless cheapo stamped chainrings on the inexpensive bikes you see at big box retailers. Apples and oranges, indeed.)
There are pitfalls for the manufacturer who chooses to produce a high-quality steel ring, especially for single speed or fixed gear usage. A steel ring designed like its heavy-duty aluminum counterpart would be portly enough to send the weight-obsessed cyclist on his way. On the other hand, a thinner chainring--especially a large ring bolted to a smaller spider, as on a compact drive MTB crank--risks getting folded into a 'D' shape under stout low-RPM pedaling, especially on a performance-oriented lightweight frameset. The challenge is to design a ring that is laterally stiff without being overbuilt.
Surly has a reputation for inexpensive, functional, reliable, and generally well-thought-out products, an antithesis to the industry's 'just because' ethos of flat-market trendmongering. Their products appeal to the new breed of cycle bum--the all-weather commuter, the dirtbound fixed gear tourist, the ride-to-the-trailhead crowd, etc.
I would definitely consider myself as something of a bum. I only own one bike, a do-it-all cyclocrossy fixed gear that I ride everywhere, crossing the lines of 'intended use' regularly. I rarely drive, so I notch up plenty of mundane day-to-day use to go with recreational off-road riding. Who better to test this product?
I first asked Andy at Surly about procuring some of the vaunted stainless rings in spring 2004. I wanted them for an attempt at completing the Great Divide Route MTB Race on a fix. As it turned out, I had to skip the race in order to move house, and in any case the rings weren't ready in time. But I received a package from Andy in July, and vowed to get down to business.
The Surly rings are absolutely no-nonsense. They aren't going to win any concours competitions, but who cares? My early production ring has visible machining marks, especially around the teeth, and some scratches. Again, it's a chainring, no vanity necessary. The tooth profile is nice and high, like a good single speed chainring should always have. I find it reminiscent of the old Tuff Neck BMX rings I used in my formidable singlespeed days of the mid-90's, except I don't expect to wear out the Surly lickety-split. One interesting point is the absence of the countersunk chainring bolt holes you see on almost every aluminum ring. The ring is a uniform thickness (3mm) save for the triangulation of the teeth. This makes it absolutely perfect for use with standard singlering chainring bolt and nut sets--not always the case with thicker aluminum rings. It also allows you to run the ring in either the inner or outer position on the crank and still have the graphics (the Surly logo, the spider and size designation, 'Stainless Steel', and 'Made in Canada') facing outwards. Again, no vanity, please.
Assembling my now all-ferrous driveline proved to be a breeze. I found the Surly ring to be quite round, so I didn't need to fiddle a ton à la Sheldon Brown's instructions to minimize the difference between tight and loose spots. That's always a plus. My drivetrain setup is as follows:
Surly 110mmx36t stainless steel chainring (new)
Sugino steel track chainring bolts/nuts
Sugino XD crank (165mm)
Shimano UN72 BB (68x113mm)
EAI 16t 3/32" steel track cog (with who knows how much mileage--a lot)
Phil Wood fixed MTB hub w/ Phil lockring
SRAM PC-48 chain (new)
Dumonde Tech chain lube
Now for the mundane testing procedure... riding. Lots of it. Everywhere. No empirical data since I don't have a computer on my bike, but I can safely say I ride enough to wear most aluminum rings pretty quickly. My riding varied from 10-20 miles of commuting to town over rolling, paved terrain to long, hilly fireroad rides to many miles of climbing on pavement and dirt to reach the singletrack out at Mineral Point 10+ miles from my house.
Now, I do try to take decent care of my drivetrain. (Dumonde Tech is excellent lube, but it needs to be used sparingly on a somewhat clean chain to prevent production of grinding paste.) In this case, maintenance was limited to checking chain tension during the initial stretching of the chain, giving the chain a quick wipe down with either Simple Green or acetone, and then sparing application of more lube. Usually this occurred after rainy rides, of which there are plenty here in north Idaho.
After about four months of solid use, riding generally anywhere from 4-7 days a week in all conditions on many different surfaces, I can't discern any wear on the Surly ring at all. No pitting in the troughs and no shark finning of the teeth. None. Steel indeed is real and I'm happy.
The beauty of the Surly stainless steel rings is cost. Surly's MSRP of US$38 makes them a little more expensive than many basic unramped unpinned aluminum chainrings but cheaper than many S/S-specific aluminum rings. Significantly less than some of the 'boutique' brands, in fact. I, for one, cannot see any reason not to run the stainless Surly rings over aluminum ones if the requisite size/pattern for your needs is available. Not one.
The Surly rings are still in their infancy as far as sourcing and availability. The following sizes are currently in production:
94mm BCD - five-bolt (compact drive MTB): 30t, 32t, 34t, 36t
104mm BCD - four-bolt (newer Shimano MTB standard): 32t, 34t, 36t
110mm BCD - five-bolt (standard drive MTB/touring/BMX): 34t, 36t
Those size ranges definitely take care of the single speed/fixed gear off-road crowd. Surly have tentative plans to make some stainless rings in the five-bolt 130mm BCD (road standard) pattern. Wider ranges of sizes for all spider dimensions are a possibility, but again, lateral stiffness is a concern in single gear applications, especially when you're talking about a wide disparity between ring and spider size--f'rinstance, a 40t ring on a 94mm spider. Ultimately, demand will dictate what gets produced.
Keep an eye on the Surly website and specifically the Surly Blog for product updates and availability.
That is all. Get out and ride!