Fixed I. F.
by Paul Hamad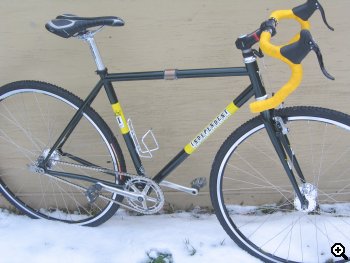 i've been riding a surly steamroller for over a year now. having become very competent, i've decided to take it to the next step... offroad c-cross fixed. i've always wanted an i.f., so why not? i love steel, and i.f. make great steel bikes.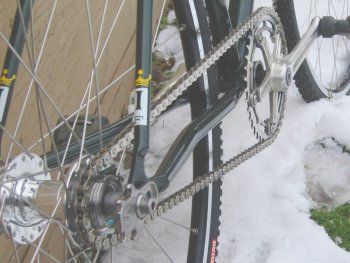 i wasn't sure how hardcore i was going to be offroad, so i put a freewheel on it so i could flip it just in case i wimped out.
Spec Sheet
i.f. planet x cross frame - fixed/singlespeed phil wood hubs... rear is a flip flop mavic open pro rims 70s dura-ace crankset avid shorty front brake king headset bonti stem salsa bell lap bar cane creek levers (rear just for show, and support) phil wood cog 2x white ind. freewheel... both 16t 40t chainring colnago seatpost specialized saddle hutch. cross tires kashimax fivegold frame protector kmc pintle chain surly tuggnut


Writer
Paul Hamad lives in Cleveland, Ohio USA, and rides all kinds of bikes from road to full sus mountain to cross/ commuter to s/s mountain (full rigid). However, he spends most of his 'getting around' time on the fixie.
Date
v1.0 written January 2007
Related
Here's a fixed Surly Crosscheck.
Mailing list
Join the 63xc.com list.