Fixed Pugsley
by Matt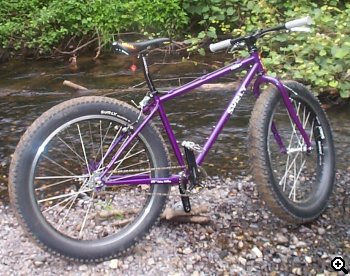 The Pugsley is my first primarily offroad fix, and also the first opportunity I've had to build a bike from the frame up with all self-chosen components. I started assembling the bike in early May and, after some delays due to QBP's supply issues, completed it in August.
I had only relatively recently started riding fixed with an On-One Pompino although I had been thinking about getting a fixie for a few years. The Pompino is an awesome bike on road and off with 35c tires, and more useful than the Pugsley most of the time. Riding the Pompino also made me like riding fixed enough to be sure that I wanted the Pugsley as a fixed gear. El Pomino often brings me places I need to go but the Pugsley mainly takes me offroad riding purely for fun.
When I first heard about the Pugsley I wanted one since I'd often gotten my regular hardtail stuck in places I wanted to ride through and it was also a great idea to make it fixed thus avoiding having to retune the shifting after every ride. The fixed gear also makes it even more natural to not get stuck.
The drivetrain was originally set up with a 36t ring and 20t cog and freewheel, but that ring bent out of shape when I lost a bolt. The replacement 34t gives a much better ratio anyway. In fact, I'm considering going lower still for the freewheel, but I think 34x20 works well for fixed. (The huge tires make it effectively more like a 29 incher if you want to do some calculations on gearing.)
I'd read in some places that that cantis could be kind of on the weak side for the Pugsley considering those big wheels. My experience has been that the Paul brake system provides plenty of stopping power especially riding fixed, but disc's advantage might prove true if it gets cold and icy. I had been considering going with a disc brake up front and relying on the pedals in the back. Since I wanted to have a freewheel option as well that wouldn't work unless I got a much more expensive hub. Overall I'm glad to have canti's because their much easier to work on, but I might swap out the brakes sometime if the weather calls for it.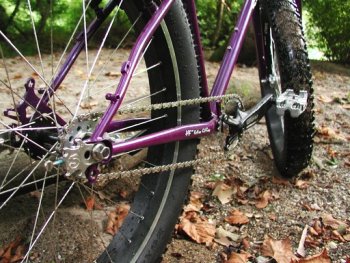 According to the experts on the boards, the Pugsley's big Q-factor due to the superwide BB should be bad for its handling. My feet are noticeably further apart than on the Pompino, but I can't say that it really bothers me. Besides the Pugsley's only competition costs much more, and its BB is not that much narrower.
I've taken the Pugsley many places including through mud, across streams, and over very soft sand. I'm still looking forward to a chance to try it out in snow though. To be at it's best, the trick is adjusting to the right tire pressure for the surface. But, basically it lives up to the Surly folks claims of working well on terrain that other bikes can't ride at all.
It's also fun to ride the Pugsley on stuff you could do with a regular bike. You get plenty of suspension from the tires. Fixed, it adds a whole new dimension. I think it's because with so much tire in contact with the ground, you feel even more connected than on an ordinary fixed ride. Although I haven't mastered either yet, I think the Pugsley also is nice for practicing trackstands and riding backwards.
Spec Sheet
Surly Pugsley, 16", Purple Pearl Sizzurple Cane Creek S-8 headset Thomson Elite stem, 100mm x 5° Easton EA-70 flat bar Oury grips Paul Canti-levers Avid Flac Jackets Salsa 50mm cable carriers Problem Solvers front hanger Paul Touring Cantis Thomson Elite post (mounted backwards) Selle Italia Flite, magnesium (steel) rails Truvativ Howitzer 100mm BB Truvativ Hussefelt cranks, 170mm Time ATAC Z Control pedals Surly New Hubs, one disc (freewheel) and one flipflop Wheelsmith butted spokes 32h Surly Large Marge XC rims Surly Endomorph tires Surly 34t chainring Surly 20t 3/32 cog SRAM PC-58 chain ACS Claws 20t 3/32" freewheel