DH 1x1
by Rick Fichter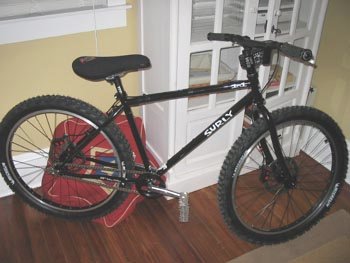 I am submitting my new build, a Surly 1x1 with SS and fixed gears. I've raced DH for some time, but singlespeeding is a new experience for me. I just love the SS scene--it is the best ride out there besides my DH bikes.
I like the DH feel, so my fix has some DH aspects--like the big Michelin tires in the picture.
The setup is:
1x1 with the Surly Fork
Magura Gustavs with the 8 Rotors, a bit overkill but I like 'em!
Profile cranks with an S&M 32t Bash Sprocket
RhynoLyte rims on Surly SS Disc hubs
SDG 'Big Boy' seat on a Titec post
Kore DH Bars w/ NYC Freeride Stem
Shin Burger Pedals from Brooklyn Handmades
Michelin DH tires swapped out with WTB Raptors for speed