Wicked Fun
by Todd Burpee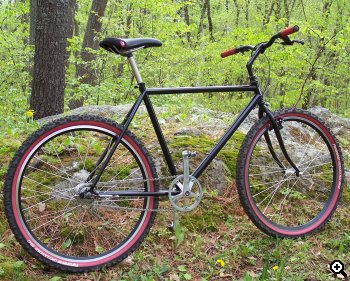 If you lived in New England and someone told you they had a wicked fat chance, you'd know one of two things. Either they'd just figured their odds of winning the MegaBucks, or, being of a certain age and bicycle literate, they were talking about a mountain bike.
I'm old enough to know my odds of attaining instant riches, and also to own a Wicked Fat Chance. If you're too young to remember when men were rigid and so were their bikes, you might at this point be stifling a yawn. But understand that, among rigid folks, the Wicked is a contender for the accolade of the finest-handling, most intuitive, best-made, sweetest (and any other superlative you'd care to attribute) MTB ever.
In the '80s a guy named Chris Chance put together a little bicycle company near Boston called Fat City Cycles. Somehow, with the right combination of tube choice, frame angles, wheelbase and various mystical powders and incantations, he cranked out the Wicked Fat Chance. It was the perfect mountain bike. Nearly. Like nearby Merlin, at the time another little Boston area upstart, he spec'd a few odd choices such as pressed-in bottom bracket bearings.
And, the bike was geared. Well, why not? That's what people wanted. Still do, I hear.
I scraped together enough cash to buy my Fat Chance in '89 and rode the pee out of it for seven or eight years until the Deore XT group cried uncle and gave up. At the time I was baby rich and cash poor, and I had a perfectly good road bike. I hung the Fat in the garage with every intention of restoring it one day. We all know how that goes.
There, on the wall, it remained until a Californian named Sameer Kawash posted his beloved old Fat on FixedGearGallery.com (#2526), newly fixed and fabulous. I couldn't believe I hadn't thought of it myself.
About an hour after seeing Sameers' bike I had my old ride stripped of all componentry. I knew I had to remove the braze-ons, narrow down the rear end and replace the rear drops with proper fork ends. But then I had a moment -- several moments, in fact -- of doubt. Did I really want to hack such a wonderful frame? I knew I'd never spend the money for new, quality components for a rigid bike, but still... this was my Wicked Fat.
Meanwhile, I had spent some time perusing Mike Flanigan's website, ANT, and while savoring the tasty and unique offerings there I'd learned that he was one of the original Fat City Cycles guys who also, after Chance decided he'd had enough of the bike biz, went on to start up Independent Fabrication. Naturally, I concluded he'd had a hand in building my very bike and so, I rationalized, if he fixed my Fat it wouldn't be a hack job at all, but a factory-authorized modification! Of course it would.
Tentatively, I wrote and asked if he could help me make a fixer of my old Fat frame. Surprisingly enough, he replied "Sure, 'be glad to." And the price he quoted, to include a much-needed new glossy black powder coat, was so reasonable I thought surely it must have been a mistake. Immediately, before either of us could change our minds, I shipped the frame and fork off to him with instructions to re-space the rear triangle to 120 mm, to replace the rear dropouts with the all-important horizontal slots, and to remove all braze-ons save the right downtube cable stop.
A few weeks of waiting and a couple of hours of building yielded the results you see here. Many of the parts are original except the typically consumable - seat, grips, chain, bearings, etc. Interestingly, the obviously not-original 170mm 7400 series Dura-Ace cranks feel right at home off-road, providing stiffness, light weight, stay-huggingly low "Q", and the all-important perfect chainline to the 120 mm rear forks. And new wheels. Which brings me to that lone, surviving cable stop. That is for my rear hub.
I've developed a fondness for the rugged old Bendix 2spd hub. It's relatively easy to fix, and when so configured, offers a selectable 33% reduction in gear ratio with a barely perceptible amount of backlash. And yes, about 3lb. of extra weight. It's not a perfect world.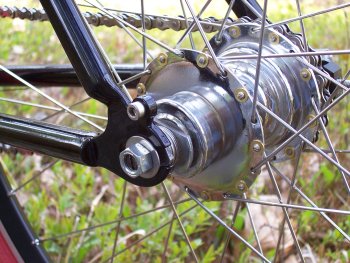 I built a new set of wheels around the Bendix using Velocity Aeroheat rims. I run about a 53 inch (39x19) gear ratio which is appropriate for the rocks and roots of the Maine woods and my 55 years, and use the low gear, which is equivalent to 39x25 or a 41 inch gear, as a granny for times when I'd otherwise have to bail off and walk. (It also provides excellent rear wheel control on steep descents.) I built a third, matching straight fixed wheel for use in really sloppy conditions, since 50 year old Bendix offers minimal protection against water infiltration.
As for the frame, the quality of the transition from geared to fixed can only be described as seamless. There's not a hint, not a whisper of 'conversion' here. Flanigan's frame building artistry and impeccable craftsmanship, in addition to his in-depth knowledge of this particular bicycle, have combined to produce a fix which, to the uninitiated, would appear to be a purpose-built, custom frame. It's that good.
So, is the Wicked Fixed Fat wicked fun? Absolutely. My newly rediscovered old pal is just as sharp and charming and entertaining as I remember it to have been. The Wicked Fat's forte always was the tight and technical trails of the New England woods. Adding the extra control and nuance you get from coupling directly to the good earth has won over this fixed MTB rider in a big way. (You can probably tell.)
Postscript: An admonition -- if you're planning to fix a Bendix hub, do not attempt to epoxy it! Four of the five epoxied hubs I'm aware of have failed. Intead, have it welded. Welding is a two minute job for a competent metalworker. Welded or brazed, the Bendix is bulletproof.
Spec Sheet
1989 Wicked Fat Chance, 19.5" Nitto Dirt Drop stem, 130mm x 120deg Dimension grips Bontrager Crowbar bars Deore XT shifter Tange headset Bontrager seatpost Strong BB Dura Ace 170mm cranks Crank Bros pedals Panaracer Cinder 2.1 tires Velocity Aeroheat rims Deore XT front hub Bendix 2 spd hub, 39 x 19 (x 25)